Chicago Neighborhoods
Chicago is a city known for its vibrant culture, stunning architecture, and rich history. But did you know that the Windy City is also home to 77 unique neighborhoods? Each with its own distinct personality and story to tell. From the bustling streets of the Loop to the charming bungalows of Beverly, there's so much to explore in Chicago's diverse communities. Uncover fascinating stories of immigration, innovation, and resilience that have shaped the city we know and love today. Join Chicago Beautiful on a journey through the streets of Chicago as we discover the hidden gems and local legends that make each neighborhood one-of-a-kind.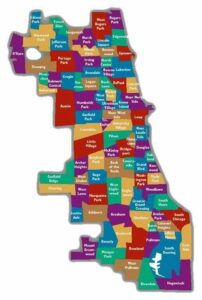 Which Chicago Neighborhoods Should I Explore?
The question of which are the top neighborhoods in Chicago has caused much discussion in various places, from local pubs to the media. However, don't overly concern yourself with this matter, as each area in the city has something to offer depending on what you desire.
Chicago is a large city, with some neighborhoods being more densely populated than others. To give you an idea, the south side of the city is usually less crowded than the north side, with more than half of Chicago lying south and west of the downtown area. For those looking for more space to go for walks or have a picnic, the south side may be a better choice. On the other hand, if dense living is what you seek, then you should look into the north side. The Chicago neighborhood map can be used to get started.
How Many Neighborhoods are in Chicago?
The city of Chicago is home to 77 distinct neighborhoods, and there is speculation that the number may soon increase. Recent conversations around the development of underutilized land and former industrial zones suggest the possibility of 78 neighborhoods. For those seeking to rent an apartment in Chicago, it is important to note that certain neighborhoods are located within other neighborhoods; this can be confusing for those unfamiliar with the city.
Where Do Nicknames for Chicago Neighborhoods Come From?
Many of the neighborhoods in Chicago have been labeled according to their location, such as River North, the West Loop, and Lakeshore East. Certain districts, like Fulton Market, Logan Square, and Lincoln Square, are named after a popular meeting spot. Other interesting names, like Streeterville, Pilsen, and Bronzeville, symbolize the area's background and population. Andersonville and Pilsen are two neighborhoods where the initial settlers were immigrants who have since disappeared from the community. To find out more about the histories of Chicago's neighborhoods, find it below!
North Chicago
South Chicago
Exploring the Community Areas of Chicago
Chicago is not just a simple unitary entity. Instead, it is a complex mosaic of 77 unique community areas, each with its distinct character and demographics. These community areas are more than just geographical demarcations; they define the city's identity and play a crucial role in urban planning and statistical analysis.
Origins of the Community Areas
The concept of community areas in Chicago was introduced in the 1920s by the Social Science Research Committee at the University of Chicago. Spearheaded by renowned sociologists Robert E. Park and Ernest Burgess, the initiative aimed to delineate parts of the city based on physical contingencies, leading to the formation of areas with shared identities.
Originally, this team identified 400 neighborhoods, but to make the areas more manageable, they narrowed it down to 75 by combining related neighborhoods. Over time, two additional areas were added — O'Hare and Edgewater, resulting in the present 77 community areas.
Historical Evolution
The community areas were not static; they evolved over time, reflecting the city's changing social and physical landscape. In the 19th century, wards were used for census data collection, but their boundaries changed with each census, limiting their utility for longitudinal comparisons.
To overcome this challenge, the concept of community areas was introduced. These areas, unlike wards, have largely stable boundaries, facilitating comparisons over time. Since their introduction, the University of Chicago Press has published census data sorted by community areas, providing invaluable insights into the city's demographic shifts and socio-economic trends.
Changes in Community Area Boundaries
Despite the general stability of community area boundaries, there have been a couple of significant alterations. The first was the addition of O'Hare, which came from land annexed by the city in 1956 to control the O'Hare International Airport. The second change occurred in 1980 when Edgewater was separated from Uptown, following residents' concerns that being part of Uptown was hindering local improvement efforts.
Role and Impact of Community Areas
Community areas are used for a multitude of purposes, from planning and statistical analysis to understanding socio-economic disparities and urban development trends. They help break down the vast city into more digestible pieces, consequently contributing to Chicago's reputation as a "city of neighborhoods".
However, it's important to note that community areas do not always correspond to popular perceptions of neighborhoods. For instance, the Pilsen and Back of the Yards neighborhoods are more well-known than their respective community areas — Lower West Side and New City.
List of Community Areas
The 77 community areas of Chicago are numbered from north to south, providing an easy reference for location. Each area has a unique identity, shaped by its history, demographics, and culture. The most populous area as of 2020 is the Near North Side, with over 105,000 residents, while Burnside is the least populous with just over 2,500 inhabitants.
Other Geographic Divisions in Chicago
In addition to the community areas, Chicago is traditionally divided into North, West, and South sides by the branches of the Chicago River. These divisions are reflected in the city's flag, with the three white stripes representing the three sides.
The city is also divided into 50 wards for electing one alderman each to the Chicago City Council. Unlike community areas, the boundaries of these wards are adjusted every ten years to account for population shifts.
Furthermore, in heavily Catholic neighborhoods, a unique method of neighborhood nomenclature is practiced wherein communities are referred to in terms of parishes. For instance, one might say, "I live in St. Gertrude's, but he is from Saint Ita's."
Notes
It's worth noting that since community areas postdate the large annexations of the late 19th century, the only major annexation-related community area change is the addition of O'Hare.
The community areas of Chicago provide a fascinating lens to view and understand the city. They are more than mere geographical divisions; they are the heart and soul of Chicago, each with its unique character and charm. These areas not only serve as vital tools for urban planning and statistical analysis but also help shape Chicago's identity as a "city of neighborhoods".
As you navigate the Windy City, remember that each community area you pass through has its unique story to tell, contributing to the rich tapestry that is Chicago.