Edgewater: A Vibrant Lakefront Community in Chicago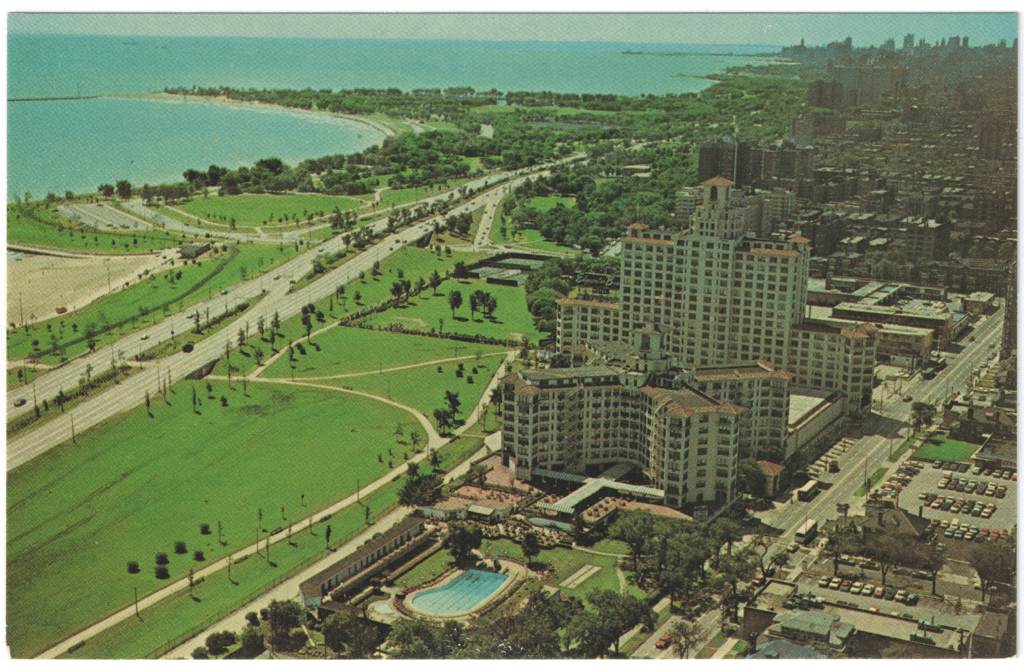 Nestled on the picturesque shores of Lake Michigan, Edgewater is a dynamic and diverse community that offers a unique blend of urban living and natural beauty. Situated on the North Side of Chicago,  Edgewater is a vibrant neighborhood with a rich history and a thriving present. From its humble beginnings as a small settlement to its transformation into a desirable residential area, it has evolved into a sought-after destination for residents and visitors alike.
Early Development and Growth
The area's story begins in the late 19th century when developers recognized the potential of the area. They acquired orchards and farms, clearing the dense forests to make way for residential development. As the population of the township grew rapidly, the need for public services and infrastructure became apparent. In 1889, Lake View Township, including Edgewater, was annexed by the city of Chicago to meet these demands.
In 1885, a prominent developer named John Lewis Cochran christened the northeastern section of Lake View as Edgewater. He built the first residential subdivision in the area, which still boasts many of his historic homes today. Edgewater quickly gained fame as the only electrically lit suburb adjacent to Chicago, attracting affluent residents and becoming a symbol of prestige.
The Streets Of Edgewater
The streets of this neighborhood bear a fascinating history, as they were named by John Lewis Cochran himself. Cochran, originally from Philadelphia, brought a piece of his hometown to Edgewater. Each street was named after a train station on the former PRR Main Line, paying homage to Cochran's roots and adding a unique charm to the neighborhood.
The Rise of Edgewater as a Prestigious Community
By the early 1900s, Edgewater had established itself as one of Chicago's most prestigious communities. The lakefront was dominated by grand mansions, while further inland, single-family homes proliferated. One iconic symbol of Edgewater's allure was the Edgewater Beach Hotel, which opened its doors in 1916. Though the hotel has since been demolished, the Edgewater Beach Apartments building remains, serving as a landmark at the north tip of Lake Shore Drive.
During this period, the area experienced a building boom, with property values reaching their peak in 1928. The neighboring Uptown community became a bustling commercial hub, attracting nightlife, entertainment, and tall commercial buildings. When Chicago designated its community areas in the late 1920s, Edgewater was included as a section of Uptown.
Revival and Renewal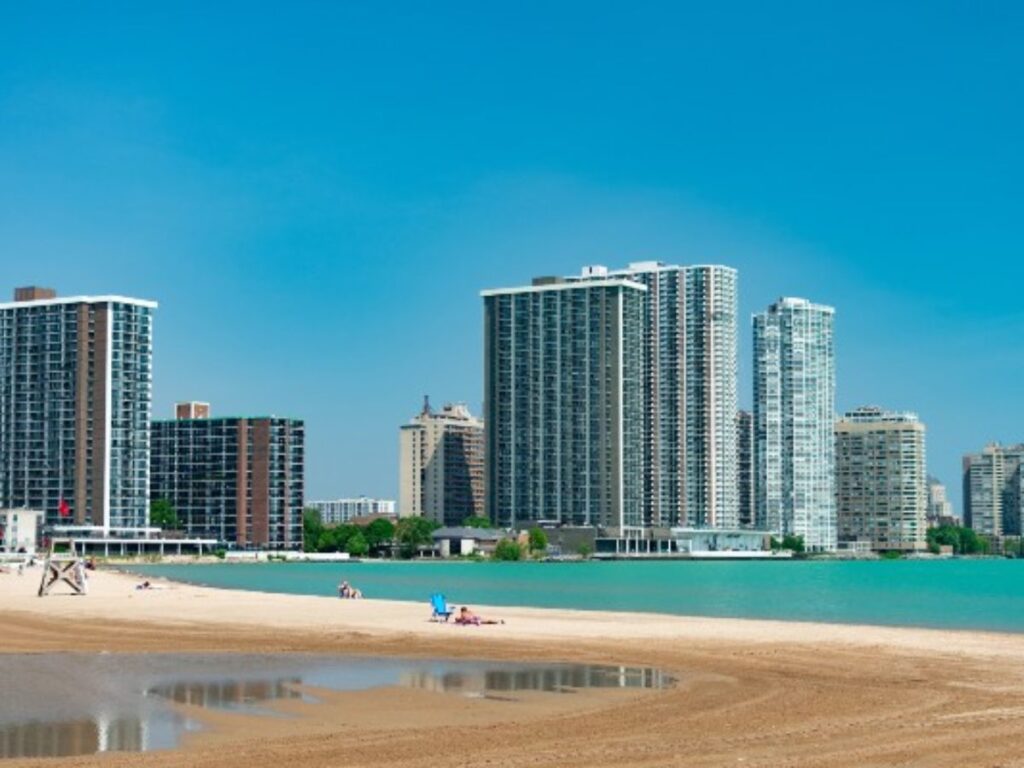 In the 1950s, Uptown's affluence began to decline as Chicago's suburbs developed. Residents moved away, leaving behind disrepair and crime. However, the extension of Lake Shore Drive in the 1950s and 1970s sparked a revival in Edgewater. High-rise condominium developments along the lakefront flourished, and the historic neighborhood of Andersonville sought to preserve its unique heritage.
In 1980, the Chicago City Council and local business owners spearheaded a revival for the Edgewater community. It separated from Uptown and reestablished itself as an independent neighborhood. New businesses flocked to the area, older buildings were refurbished, and homes were renovated to celebrate Edgewater's past. Since then, several new additions, such as The Clarovista, Edgewater Glen, and Catalpa Gardens condominium developments, have further enhanced the neighborhood's appeal.
Neighborhoods in Edgewater
Edgewater consists of several distinct neighborhoods, each with its own character and charm. Andersonville, located in western Edgewater/Uptown, was originally settled by Swedish immigrants and retains a strong Swedish cultural presence. This diverse community is home to the Swedish American Museum and a variety of independent, locally-owned shops and restaurants.
Edgewater Glen, situated in the north-central part of Edgewater, takes its name from the streets Glenwood Ave. and Glenlake Ave. that intersect at its heart. This tight-knit neighborhood is known for its lovely residential homes and active residents' association, which has played a vital role in shaping the community.
Broadway is the main commercial street running through Edgewater, separating the high-rise dominated Edgewater Beach area from the single-family home-dominated Andersonville and Edgewater Glen areas. Broadway and Andersonville's Clark Street together form a unique commercial district filled with diverse independent shops, eateries, and entertainment venues.
Sheridan Road is another significant thoroughfare, running along the lakefront. This road, which marks the eastern border of Edgewater, offers stunning views of Lake Michigan and is the main route for traffic to/from Lake Shore Drive. Along Sheridan Road, you'll find a dense collection of high-rise residential buildings, including iconic landmarks like the Edgewater Beach Apartments.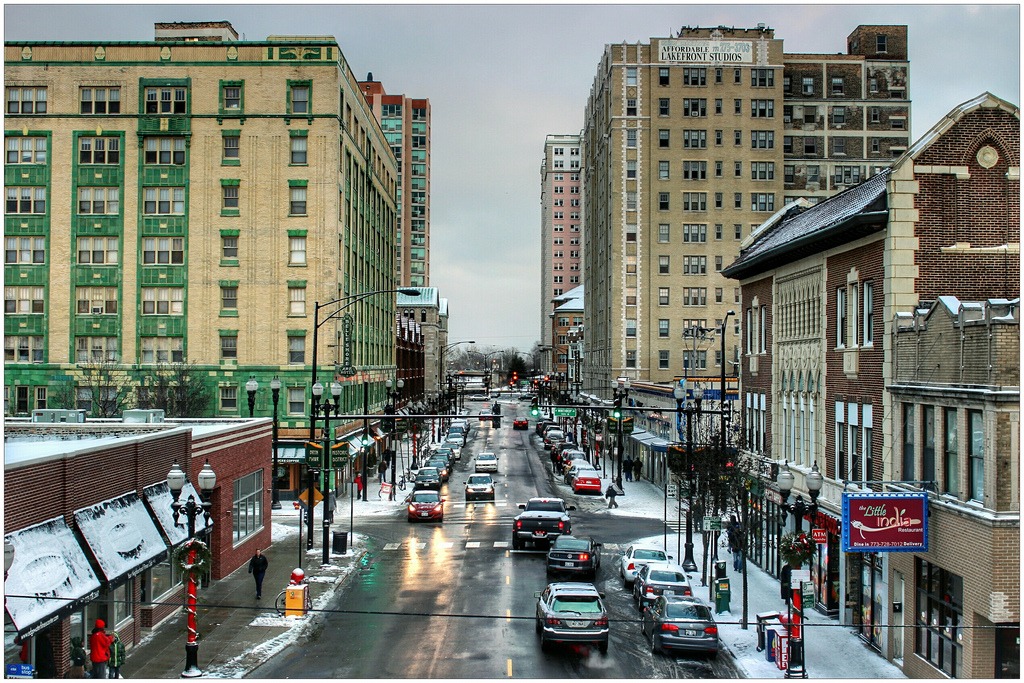 LGBT Community
Edgewater has long been a welcoming and inclusive neighborhood, attracting diverse residents and fostering a sense of community. In the 1990s, Edgewater's population of lesbian couples experienced significant growth. The relocation of Andersonville's feminist bookstore, Women & Children First, played a crucial role in this influx, as did the desire to escape gentrification in other parts of the city. At one point, the neighborhood became known as "Girlstown," offering an alternative to Boystown in Lakeview. While the lesbian population has declined in recent years due to rising rents and closures of lesbian-centered businesses, the area remains a welcoming place for the LGBTQ+ community.
International Community
The neighborhood's proximity to Lake Michigan and access to public transportation have attracted an influx of new residents from around the world. The neighborhood has become a melting pot of cultures, with significant communities of Bosnian, Serbian, Croatian, Ethiopian, Eritrean, and Somali residents. These diverse populations add vibrancy and international flavor to Edgewater, creating a modern revival of the neighborhood's rich tradition of accepting and embracing different ethnicities.
Education
Edgewater is home to a range of educational institutions, both public and private. Nicholas Senn High School, established in 1913, serves as the local public high school. Several elementary schools in the neighborhood, including Hayt, Swift, Peirce, and Goudy, have achieved excellent status from the Chicago Public Schools. For those seeking a religious education, there are also Catholic and other religiously-affiliated schools available.
Loyola University Chicago's campus borders northeastern Edgewater and plays a significant role in the community. The university, established in 1906, offers a variety of academic programs and contributes to the neighborhood's intellectual and cultural landscape.
Transportation
Edgewater benefits from excellent transportation options, making it easy to navigate the neighborhood and explore the wider city. The Chicago Transit Authority (CTA) operates the Red Line, which serves Edgewater with four stations: Berwyn, Bryn Mawr, Thorndale, and Granville. These stations provide convenient access to downtown Chicago, Wrigley Field, and other popular destinations.
Metra's North Line commuter rail also runs through Edgewater, with nearby stations in Ravenswood and Rogers Park. This rail service offers a convenient alternative for commuters traveling downtown or to the North Shore suburbs.
In addition to public transportation, the area offers various other transportation services. Car-sharing services like I-GO and Zipcar are available, as well as bicycle-sharing services like Divvy. Taxis, limousines, and rickshaws provide additional options for getting around the neighborhood. Edgewater's bike paths and walking trails are perfect for leisurely strolls or commuting via bicycle.

Edgewater is a thriving community that embraces its rich history while embracing the future. With its stunning lakefront views, diverse neighborhoods, and convenient transportation options, it offers a unique and vibrant living experience. Whether you're strolling along the lakefront, exploring the shops and restaurants of Andersonville, or immersing yourself in the area's rich cultural heritage, Edgewater has something for everyone. Discover the charm and allure of this exceptional neighborhood and experience all that this charming neighborhood has to offer.