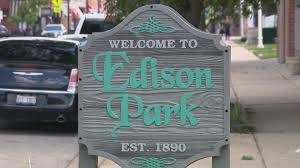 Edison Park is one of the 77 neighborhoods in the city of Chicago, located on the North Side. It is named after Thomas Alva Edison, who gave his approval to the area in 1890. According to the 2000 Census, its population was 11,259 and it has one of the highest concentrations of Irish ancestry in the city. The area is bordered by the Des Plaines River and the Chicago River, and was historically used as a portage for travelers.
Settlement of the area began in 1834 with John and Katherine Ebinger and their son Christian, who had emigrated from Stuttgart, Germany. The Ebinger family made their home between Touhy and Devon Avenues, and were later joined by other family members. The area eventually became Niles Township. In 1868, Norwood Park was developed, and in 1881, Edison Park (formerly known as Canfield) was incorporated and renamed in honor of Thomas Alva Edison. In 1893, Norwood Park was annexed to Chicago and Edison Park followed in 1910.
One Hope United Methodist Church is the oldest church building in the area, dating back to 1894, and is the spiritual successor to the German Evangelical Association. According to a 2016 analysis by the Chicago Metropolitan Agency for Planning, Edison Park had 11,208 people and 4,400 households. The racial makeup of the area was 87.3% White, 1.1% African American, 1.5% Asian, and 0.7% from other races. Hispanic or Latino residents of any race made up 9.5% of the population. The median household income was $86,300 compared to a median income of $47,831 for Chicago at-large.