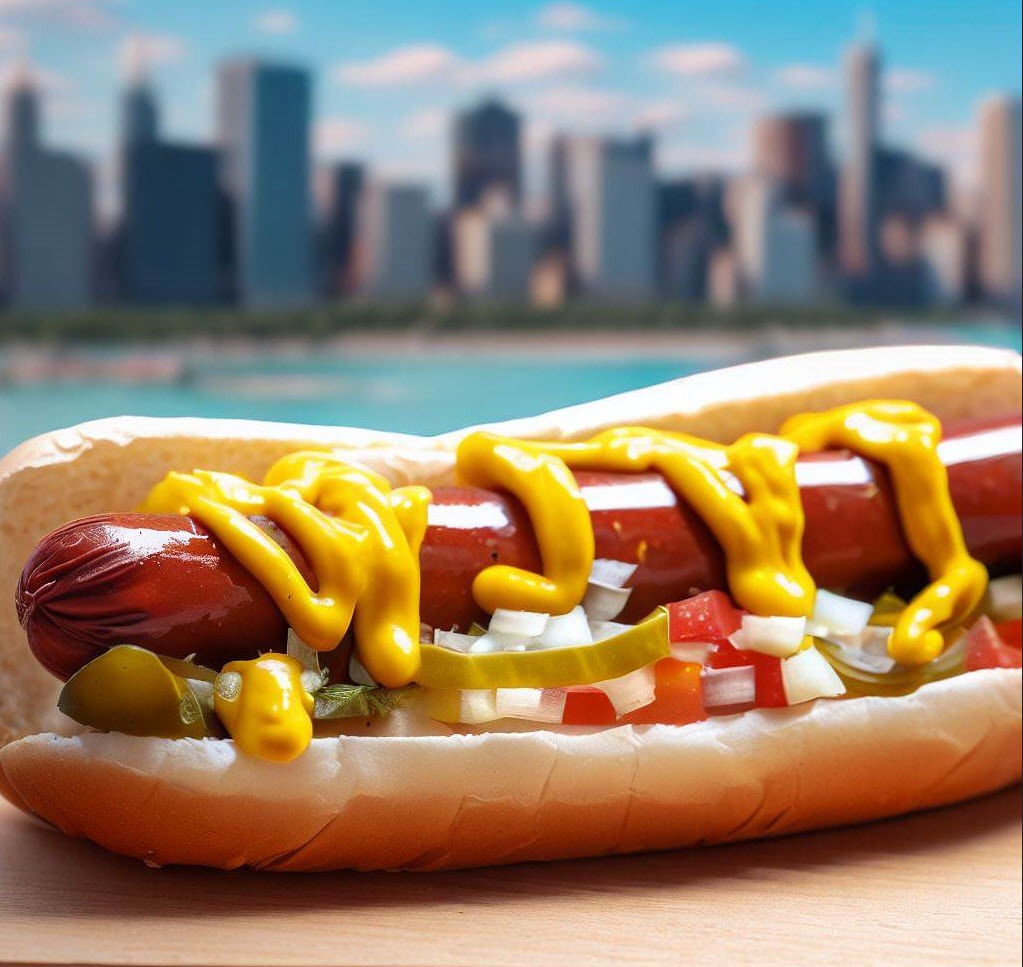 Chicago style hot dogs are a staple of the city's culinary scene, loved by locals and tourists alike. These hot dogs are unique, with a specific combination of ingredients that make them stand out from any other hot dog in the world. Whether you're a foodie visiting Chicago for the first time or a local looking for the best hot dog in town, this guide will help you uncover Chicago's Best Hot Dog.
Introduction to Chicago Style Hot Dogs
Chicago style hot dogs are a type of hot dog that originated in Chicago in the 1920s. They are made with a steamed all-beef hot dog, served on a poppy seed bun and topped with mustard, chopped onions, sweet relish, a dill pickle spear, tomato slices, and a sprinkle of celery salt.
What makes a Chicago Style Hot Dog Unique?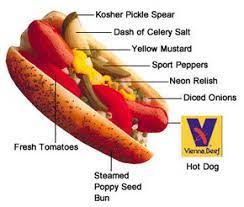 What makes a Chicago style hot dog unique is the combination of ingredients used to top the hot dog. The poppy seed bun, the neon green sweet relish, and the dill pickle spear are all distinct features of a Chicago style hot dog. Additionally, the use of celery salt is a key ingredient that sets this hot dog apart from any other.
The History of Chicago Style Hot Dogs
The history of Chicago style hot dogs dates back to the Great Depression, when hot dogs were a cheap and filling meal for many Americans. The first hot dog stand in Chicago was opened by a German immigrant named Chris Von de Ahe in 1893. However, it wasn't until the 1920s that the classic Chicago style hot dog was born.
Top Places to Get the Best Chicago Style Hot Dogs in the City
Who has the best hot dogs in Chicago?
Portillo's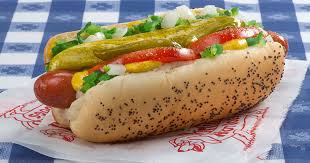 Back in 1963, Dick Portillo took a risk by investing $1,100 into a small trailer to open the first Portillo's hot dog stand in Villa Park, IL, which he aptly named "The Dog House." In the years since then, the chain has become an iconic part of the Chicago culture- it's not a true trip to the city without a visit to one of the restaurants. With more than 70 locations across several states, Portillo's can now satisfy the cravings of both longtime fans and those experiencing the chain for the first time.
Superdawg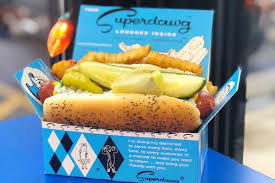 In the summer of 1948, Maurie Berman and his high school sweetheart Florence, who had married the previous year, opened Superdawg at the corner of Milwaukee, Devon, and Nagle in Chicago. This family owned and operated business is still in the same location today. Maurie was studying to be a CPA at Northwestern University while Flaurie was teaching in the Chicago Public School system. With the pair's "school-year" schedules, they decided to launch a business they could manage during their free time. Seeing many returning GIs opening up their own hot dog stands, Maurie and Flaurie thought to do the same but make theirs as one-of-a-kind and distinct.
Gene & Jude's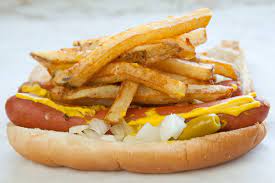 One summer day in 1945, Gene went to watch a baseball game at Wrigley Field with his friends. Unbeknownst to him, that day would be the beginning of something special. After ordering their hot dogs and drinks, Gene realized something was missing. When he returned home, he had a brilliant concept and opened up a small shop on Polk and Western Ave., Chicago IL in 1946. It served hot dogs and fries as the only items on the menu and they were so popular that he removed the rest of the items. In 1950, he relocated his stand to River Grove, IL. Although it was known as Gene and Jude's, many locals referred to it as River Road Hot Dogs since there was no name on the building.
Wiener's Circle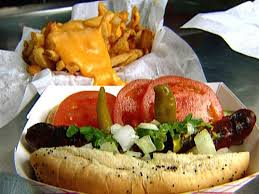 The Weiners Circle is a well-known establishment for its char-grilled food, especially its hot dogs and hamburgers (also referred to as char-dogs and char-burgers). A char dog with "the works" there consists of a grilled Vienna Beef hot dog on a warm poppy seed bun, with condiments such as mustard, onions, relish, dill pickle spears, tomato slices, sport peppers, and celery salt. The Wieners Circle first opened in 1983, replacing an earlier Chicago-style hot dog restaurant called Harry-O's. It was in the early 1990s (around 1992) when the proprietor Larry Gold, while trying to get a customer's attention, labeled him an "asshole". This then initiated the restaurant's late-night atmosphere of abuse that can vary from playful to hostile.
Fatso's Last Stand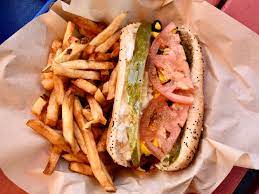 For the gastronomic experience of a lifetime, Fatso's Last Stand serves up Chicago's Best Char Dogs, Fatso Burgers and creative recipes featuring Mac & Cheese. It's the perfect spot to bring the family for a Saturday lunch or hit up with friends after a night out. No matter the time of day, Ukie Village's hot dog stand offers something for everyone.
Byron's Hot Dogs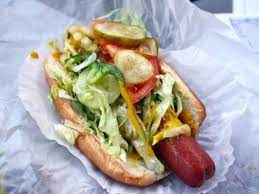 When you get a hot dog at Byron's (known as a red hot by Chicagoans), you should ask for it with all the trimmings. A long-standing establishment in the North Side since 1975, they can really load up the toppings. You can select from green pepper strips, cucumber discs, pickled relish, yellow mustard, onions, sport peppers (spicy!), and whole tomatoes.
Red Hot Ranch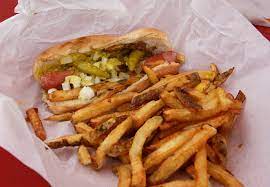 In the summer of 2005, Barry Nemerow and Jeff Greenfield, both experienced restaurateurs, opened 35th Street Redhots on the south side of Chicago close to White Sox Park. Their goal was to reintroduce the people of Chicago to the "Depression dog," the original Chicago-style hotdog, which was a much more simple dish with only mustard, relish, onion, sport peppers, and fresh-cut fries. The two partners also wanted to bring back the long-forgotten techniques for creating a better hotdog, such as cooking in ceramic crocks and using natural casing. Their efforts paid off; the restaurant was praised by the Chicago Tribune and WGN TV's Chicago's Best. As a result, Barry and Jeff opened two more restaurants in Lakeview and Bucktown, both with the signature "Redhot Ranch" name.
Wolfy's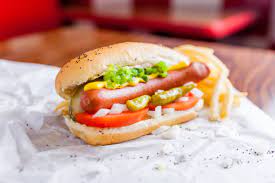 When Mickey Becker opened Wolfy's on the North Side in 1967, he ran the business until 1999 when brothers Peter and Gus Romas took over. Keeping the same quality and tradition that Mickey established, Wolfy's is the place to go for a perfect Chicago-style hot dog. Toppings are classic and even more enjoyable than elsewhere; pickle spears are extra-crunchy and tart, while the relish is bright green and tangy. The beefy dog can be had steamed or charred, making it a real treat.
The Classic Chicago Style Hot Dog – A Breakdown of its Components
The classic Chicago style hot dog is made up of several distinct components. The hot dog itself is a steamed all-beef hot dog, typically made by Vienna Beef. The bun is a poppy seed bun, which is steamed along with the hot dog to make it soft and pillowy. The toppings include mustard, chopped onions, sweet relish, a dill pickle spear, tomato slices, and a sprinkle of celery salt.
Vegetarian and Vegan Options for Chicago Style Hot Dogs
If you're a vegetarian or vegan, you can still enjoy the taste of a Chicago style hot dog. Many hot dog stands and restaurants in Chicago offer vegetarian and vegan options, such as a veggie dog or a tofu dog, which can be topped with the classic Chicago style toppings.
The Best Side Dishes and Drinks to Pair with Your Chicago Style Hot Dog
When it comes to side dishes and drinks to pair with your Chicago style hot dog, there are several options to choose from. Some popular side dishes include fries, onion rings, and coleslaw. As for drinks, a cold beer or a soda is the perfect complement to a hot dog.
Must-Visit Hot Dog Places in Chicago for Tourists and Locals Alike
If you're looking for the best hot dog in Chicago, there are several places that you must visit. Portillo's, Superdawg, Gene & Jude's, and The Wiener's Circle are all iconic hot dog stands that have been serving up Chicago style hot dogs for decades. You can find them in our list of Top Places for Chicago Style Hot Dogs… above!
Tips for Making Your Own Chicago Style Hot Dog at Home
If you're a fan of Chicago style hot dogs and want to try making them at home, there are a few tips to keep in mind. First, make sure to use a steamed all-beef hot dog and a poppy seed bun. Second, use Vienna Beef hot dogs for an authentic Chicago taste. Finally, don't skimp on the toppings – make sure to include mustard, chopped onions, sweet relish, a dill pickle spear, tomato slices, and celery salt.
Why Chicago Style Hot Dogs are a Must-Try for Any Foodie Visiting the Windy City
Chicago style hot dogs are more than just a food – they're a cultural icon that represents the unique history and culinary scene of the Windy City. Whether you're a local or a tourist, trying a classic Chicago style hot dog is a must-do activity when visiting Chicago. So next time you're in the city, make sure to stop by one of the many iconic hot dog stands and taste the magic for yourself.
Looking for the best Chicago style hot dogs in the city? Check out our top Chicago Style Hot Dog picks and start planning your culinary adventure in the Windy City today!