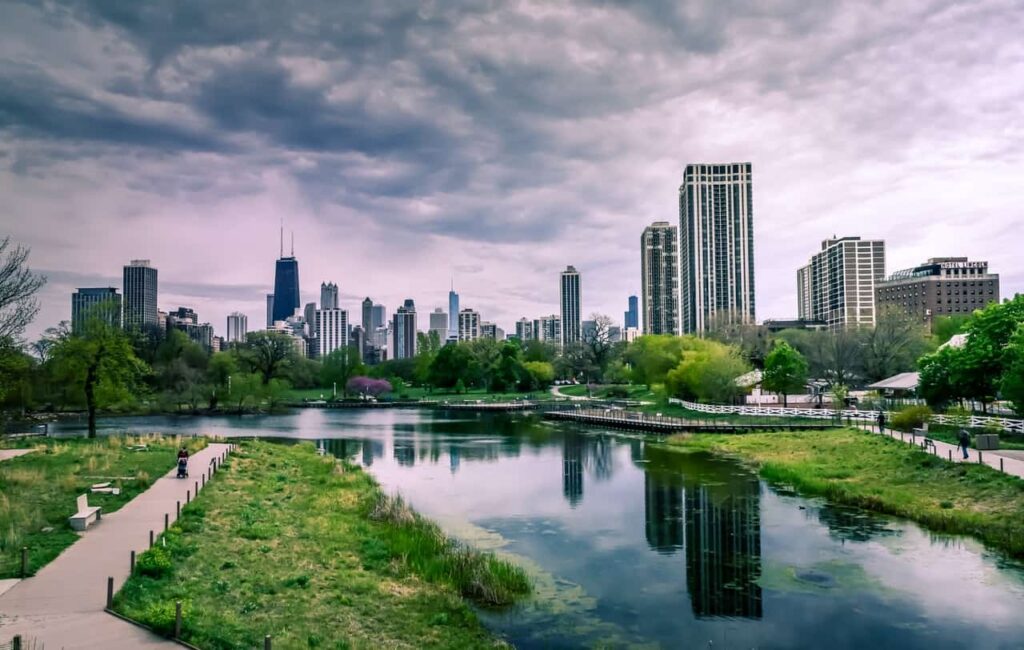 Lincoln Park is in north Chicago, and has lakefront access.  It is a well known community area.  It is bounded by Diversey Parkway to the north, the Chicago River to the west, North Avenue to the south, and Lake Michigan to the east.
This area consists of several districts such as Lincoln Central, Mid-North, Old Town Triangle, Park West, RANCH Triangle, Sheffield, and Wrightwood Neighbors. Furthermore, it encompasses most of the Clybourn Corridor shopping area, which continues on to the Near North Side. The Lincoln Park locality has a number of affiliated associations, including the Lincoln Central Association, Mid-North Association, Old Town Triangle Association, Park West Community Association, RANCH Triangle Community Conservation Association, Sheffield Neighborhood Association, and Wrightwood Neighbors Association, all of which are connected to the Lincoln Park Conservation Association.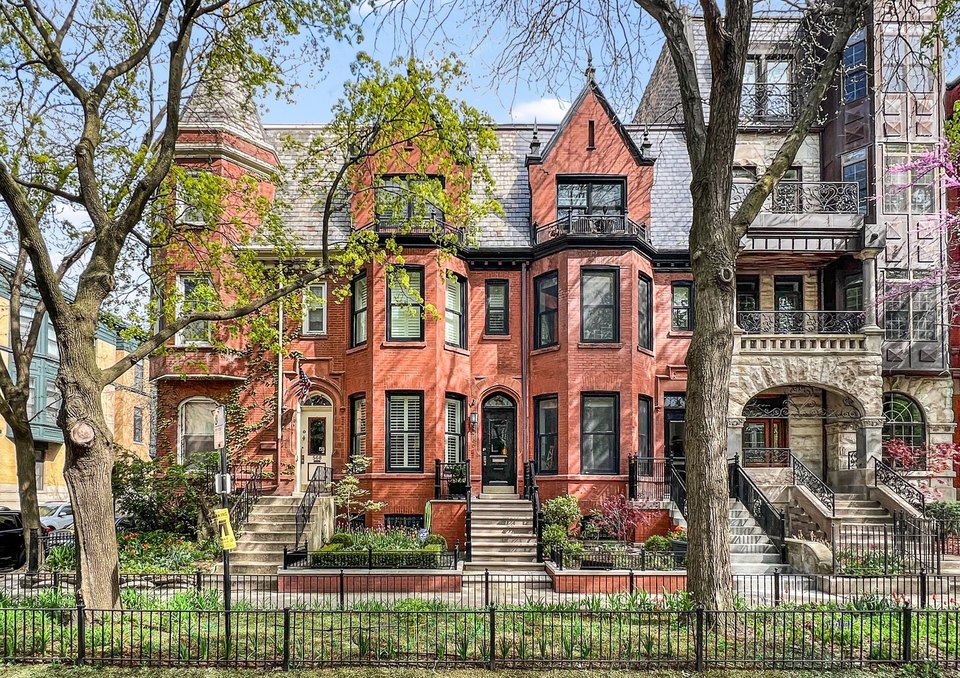 This neighborhood is the location of three prestigious educational institutions: Lincoln Park High School, Francis W. Parker School, and DePaul University. Many of their students now call this area home. Moreover, the neighborhood contains five impressive churches: St. Vincent de Paul Parish, St. Clement Church, St. Josaphat's, St. James Lutheran Church and St. Michael's Church in the Old Town Triangle. These religious edifices provide much of the area's charm with their towering presence. Four of these churches are affiliated with the Catholic Church: St. Bonaventure Oratory, Saint Clement Church, St. Michael in Old Town, St. Teresa de Avila Catholic Parish, St. Vincent de Paul Parish. Additionally, there are two medical establishments: Children's Memorial Hospital (which has been renamed Ann & Robert H. Lurie Children's Hospital of Chicago and relocated to Streeterville) and the currently closed Lincoln Park Hospital (formerly known as Grant Hospital and before that German-American Hospital). The hospital is planned to be redeveloped into condominiums, apartments, medical offices, and retail when it is renamed Webster Square.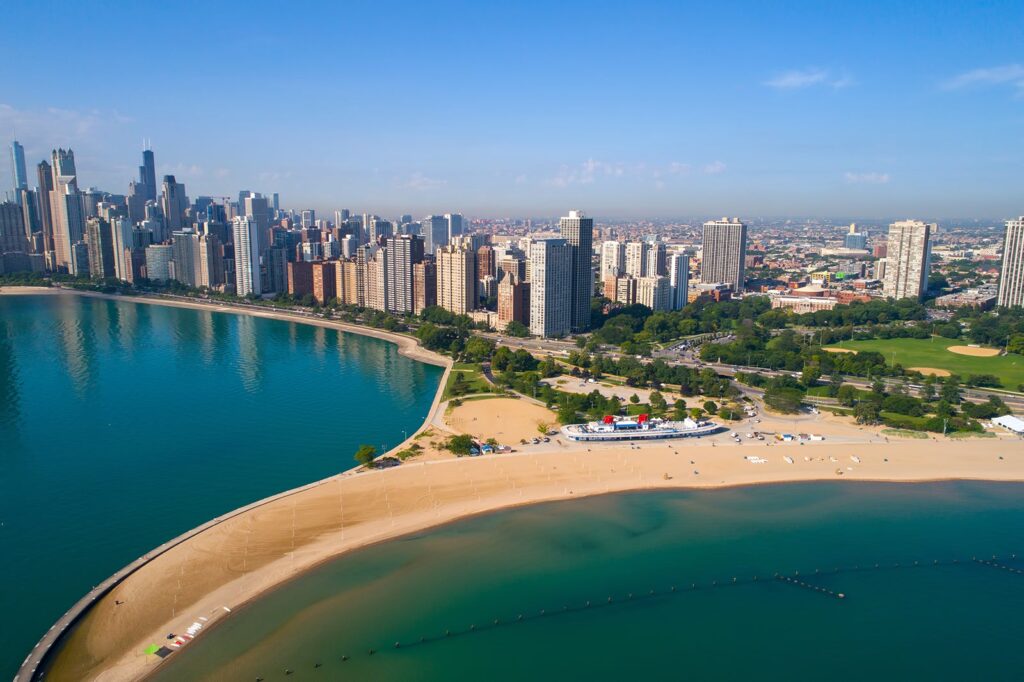 The community is well-known for its upscale retail stores, bookstores, eateries, coffee shops, and bars and clubs. An Apple Store opened in October 2010, and a Lacoste store is located across the street. A. Finkl & Sons Steel was located west of Lincoln Park for 113 years, but the lot is now vacant and is the potential site for the Lincoln Yards development. The area is one of the costliest places to live in the city, with the average single-family house costing around $1 million, and a select few selling for more than $10 million. In 2007, Forbes magazine identified the area between Armitage Avenue, Willow Street, Burling Street, and Orchard Street as the priciest block in Chicago.
The Park in Lincoln Park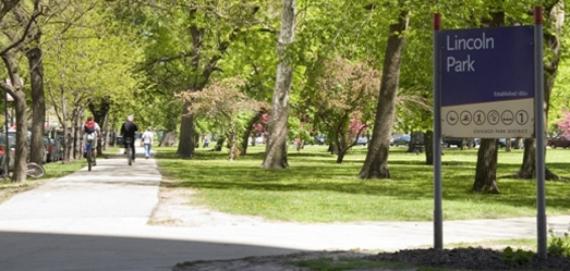 Lincoln Park itself is now much larger than the Chicago neighborhood it is named for.  It begins from Ohio Street Beach in Streeterville, going all the way up to Ardmore Avenue in Edgewater. In the vicinity of the Lincoln Park neighborhood, there are several attractions, such as the Lincoln Park Zoo, the Lincoln Park Conservatory, an outdoor theater, the Chicago History Museum, the Peggy Notebaert Nature Museum, the Alfred Caldwell Lily Pool, the North Pond Nature Sanctuary, North Avenue Beach, playing fields, a well-known statue of General Ulysses S. Grant, and a noteworthy statue of Abraham Lincoln, as well as several other statues. Additionally, there are many pocket parks, such as Oz Park, Bauler Park (named after 'Paddy' Bauler, a previous Alderman of the 43rd ward), and Jonquil Park situated throughout the Lincoln Park community.
Lincoln Park History
The United States Army established a post near present-day Clybourn Avenue and Armitage Avenue (originally Centre Street) during 1824. Native American villages were scattered along Green Bay Trail, later known as Clark Street (after George Rogers Clark), which is now the junction of Halsted Street and Fullerton Avenue. Formerly, Green Bay Trail reached up to Green Bay, Wisconsin, along with Sheridan Road, and is currently a portion of Green Bay Road in Milwaukee County, Wisconsin.  In 1836, land in the vicinity of North to Fullerton and from the lake to Halsted was reasonably priced at $150 per acre. Due to its remoteness, a smallpox hospital and the city cemetery were found in Lincoln Park until the 1860s.
In 1837, when Chicago was declared a city, North Avenue was designated as the northern edge. People began settling along Green Bay Trail for the land grants, and the road was widened. Eventually, what is now Lincoln Park was included in Lake View Township, although the city held land north of North Avenue, such as the land that makes up the park today. This Township was incorporated into Chicago in 1889. The Lincoln Park Zoo opened in 1868.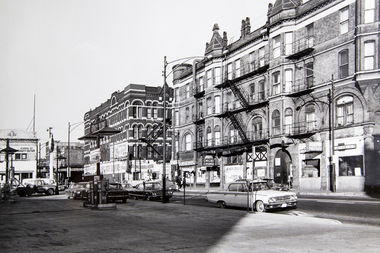 The period after the Civil War saw the emergence of a Kashubian immigrant community in the area around Southport and Clybourn. The Polish settlers brought their own culture, language, and rustic customs, and their close proximity to Germans also impacted their culture. In 1882, St. Josaphat's Roman Catholic parish was founded especially for the Kashubian people. This led to the nicknames of "Jozafatowo" and "Kaszubowo" for the neighborhood, making it one of Chicago's Polish Patches. The Romanesque Revival church was completed in 1902, and a Pomeranian Griffin Crest, located on the school south of the church, is a tribute to the parish that was once a part of Little Cassubia.
The original Ferris Wheel was installed in an amusement park situated near the corner of Clark Street and Wrightwood Avenue between 1896 and 1903. The exact address of the park was 2619 to 2665 N. Clark Street, which is now the site of a McDonald's and an apartment building. On Valentine's Day, 1929, seven mob affiliates and a mechanic were slain in an auto garage found at 2122 N. Clark Street.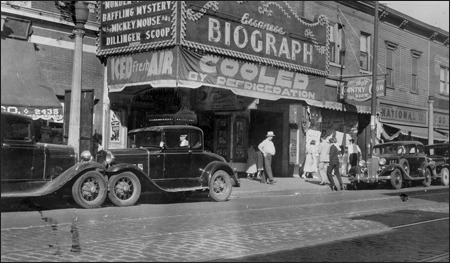 In 1954, the Lincoln Park Conservation Association was founded in order to prevent the decline of housing in the area, and two years later Lincoln Park obtained urban renewal resources to improve and repair existing structures and schools that had gone into disrepair during the Great Depression.
Today, Lincoln Park has many restauarants, music venues, shopping areas and places for residents and visitors alike to enjoy!