The nickname of the area surrounding Wrigley Field, home of the Chicago Cubs, is Wrigleyville.  When it opened in 1914, the ballpark was given the title of Weeghman Park, in honor of Charles Weeghman, owner of the Chicago Whales. When chewing gum tycoon William Wrigley, Jr. purchased the Cubs in 1921, the stadium was subsequently renamed Cubs Park from 1920 to 1926.  This Chicago neighborhood is actually part of the greater community of Lakeview in the city of Chicago.  Initially, its population was composed of working-class people. Its boundaries stretch from north to south, Grace Street to Cornelia Avenue, and from east to west, Wilton Avenue to Racine Avenue, within the larger Lakeview East district.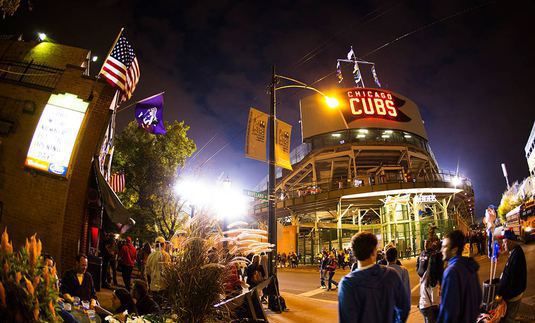 The architecture of Wrigleyville consists of low-rise brick buildings and houses, some with rooftop bleachers that are colloquially referred to as Wrigley Rooftops. People may purchase tickets for these seats to view either a baseball game or a concert. The price of these seats is usually higher than if one were to buy a ticket to sit within the park itself, but they come with all-inclusive food and drink service.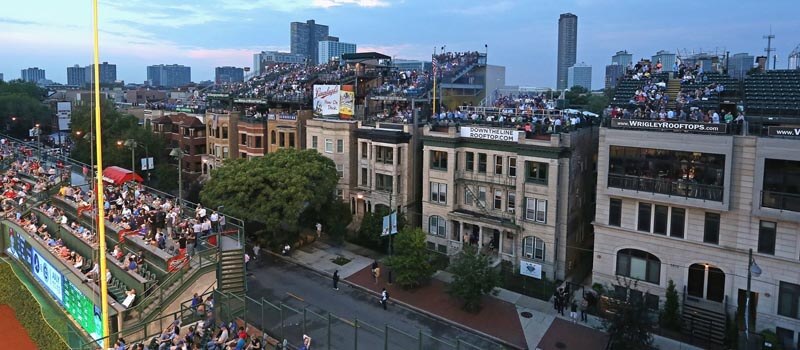 Through special deals with the Cubs franchise, business owners are permitted to open establishments around Wrigleyville with sports-inspired themes. In particular, along North Clark Street, bars like Sluggers, Murphy's Bleachers, Casey Moran's, Merkle's, Sports Corner and The Cubby Bear typically attract Cubs fans to the area at the corner of North Clark Street and West Addison Street, near Wrigley Field.