Ice Skating in Millennium Park: A Chicago Winter Tradition
Chicago winters are known for their cold temperatures and snowy landscapes, but they also offer a unique opportunity for outdoor fun. One of the most beloved winter activities in the city is ice skating in Millennium Park. With two distinct skating options, the McCormick Tribune Ice Rink and the Skating Ribbon in Maggie Daley Park, visitors and locals alike can embrace the winter wonderland and create lasting memories on the ice.
The McCormick Tribune Ice Rink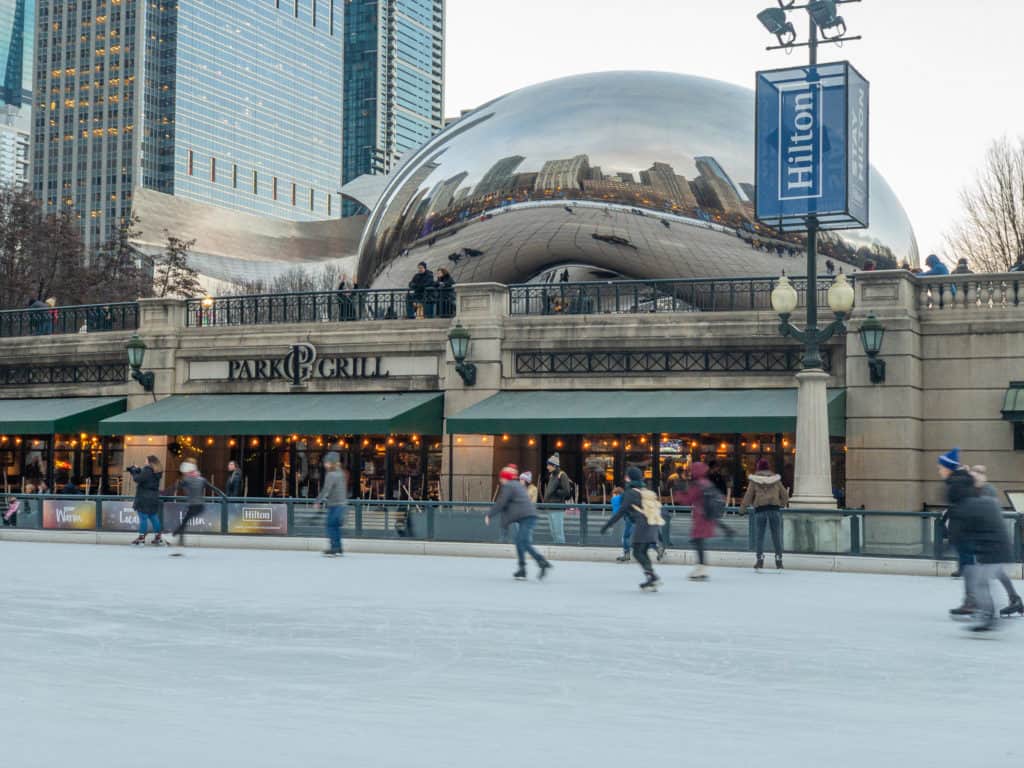 Location and Season
The McCormick Tribune Ice Rink, located in Millennium Park, is the centerpiece of winter activities in Chicago. This iconic rink, celebrating its 20th anniversary season, offers breathtaking views of the city skyline, The Bean (Cloud Gate), and the towering Christmas tree during the holiday season. The rink is open daily from November through March, weather permitting, providing ample opportunities for ice skating enthusiasts to enjoy this Chicago tradition.
Skating Lessons and Amenities
For those who are new to ice skating or want to enhance their skills, the McCormick Tribune Ice Rink offers free skating lessons. These lessons are available on weekends, during Chicago Public Schools winter break, and on selected winter public holidays. Skaters of all ages and skill levels can benefit from the expert instruction provided by experienced instructors.
Additionally, the rink provides amenities to enhance the skating experience. Snacks and hot drinks are available from Momentum Coffee, allowing visitors to warm up and refuel during their time on the ice. The rink also offers skate rentals for those who do not have their own skates, ensuring that everyone can participate in this beloved winter activity.
Reservation and Rental Information
To manage the popularity of the rink and maintain a safe environment for skaters, online reservation tickets are required for admission. Visitors can find detailed information about reservation ticket availability, session timings, and skate rental fees on the official Chicago Department of Cultural Affairs and Special Events website. It is advisable to plan ahead and secure your reservation to guarantee your spot on the ice.
The Skating Ribbon in Maggie Daley Park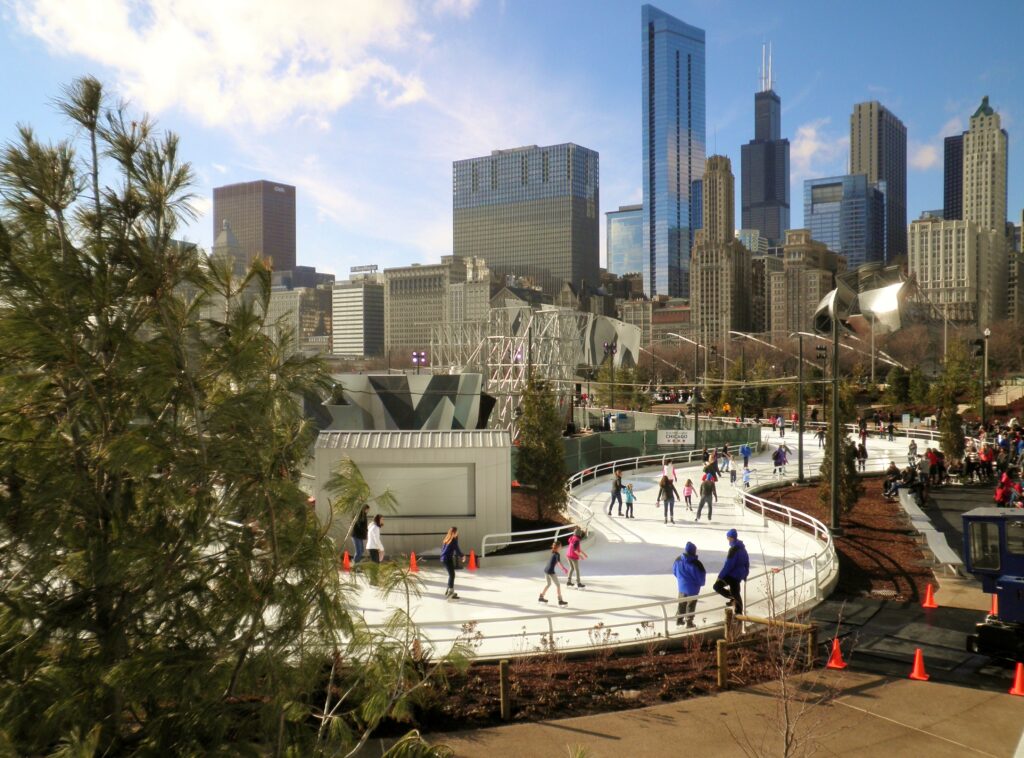 Unique Features and Experience
Adjacent to Millennium Park, Maggie Daley Park offers another exciting ice skating option with its Skating Ribbon. Unlike traditional circular rinks, the Skating Ribbon is a winding path that takes skaters on a scenic journey through snow-dusted pine trees with the backdrop of Chicago's stunning skyscrapers. This unique design adds an element of adventure and excitement to the skating experience.
Reservation and Admission Details
Similar to the McCormick Tribune Ice Rink, the Skating Ribbon also requires advance reservations. Due to limited spots, it is recommended to book your time slot early to secure your place on the ice. The park provides skate rentals for those who don't have their own skates, making it accessible to all visitors. Whether you're a seasoned skater or a novice, the Skating Ribbon offers a one-of-a-kind experience in the heart of Chicago.
Other Ice Skating Rinks in Chicago
Exploring Different Locations
While Millennium Park is home to the McCormick Tribune Ice Rink and the Skating Ribbon, there are several other ice skating rinks throughout the city that offer unique skating experiences. From neighborhood rinks to indoor facilities, Chicago provides a variety of options for ice skating enthusiasts. Some popular rinks include the Wicker Ice, McFetridge Sports Center, and the Johnny's IceHouse West.
Additional Options for Skating
In addition to the designated ice rinks, Chicago experiences freezing temperatures that allow for natural ice skating opportunities on frozen ponds and lakes. However, it is essential to prioritize safety and ensure that the ice is thick enough to support skating. Always check local regulations and recommendations before venturing onto natural ice surfaces.
Tips for Ice Skating in Chicago
Dressing Appropriately for the Cold
Ice skating in Chicago's winter requires proper attire to stay warm and comfortable on the ice. Layering is key, as it allows you to adjust your clothing based on your activity level and the outside temperature. Start with a moisture-wicking base layer, add insulating layers like sweaters or fleeces, and top it off with a waterproof and windproof outer layer. Don't forget to wear thick socks and insulated gloves to protect your extremities from the cold.
Safety Precautions on the Ice
Whether you're a seasoned skater or a beginner, safety should always be a priority. Follow these safety tips to ensure a safe and enjoyable skating experience:
Always wear a properly fitted helmet to protect your head from potential falls or collisions.

Skating in a counterclockwise direction is the standard practice at most rinks. Be mindful of other skaters and maintain a safe distance.

Avoid weaving in and out of crowds or skating too close to the boards.

Take breaks when needed to rest and prevent fatigue, especially if you're a beginner.

If you're skating on natural ice, ensure that it is thick enough to support your weight and avoid areas with cracks or open water.
Nearby Attractions and Activities
While ice skating in Millennium Park is a highlight of winter in Chicago, there are many other attractions and activities to explore in the vicinity. Take a stroll through the park to admire the iconic Cloud Gate sculpture or visit the nearby Art Institute of Chicago for a cultural experience. The park is also surrounded by world-class shopping, dining, and entertainment options, allowing you to make the most of your visit to the city.
Planning Your Visit to Millennium Park
Accommodation Options
If you're traveling from out of town or simply want to extend your ice skating adventure, there are various accommodation options near Millennium Park. From luxury hotels to budget-friendly accommodations, you can find a place that suits your preferences and budget. Some popular hotels in the area include The Langham Chicago, The Blackstone, and the Hampton Inn Chicago Downtown/N Loop/Michigan Ave.
Nearby Dining and Shopping
After a day of ice skating, you'll likely work up an appetite. Fortunately, Millennium Park is surrounded by a plethora of dining options to satisfy any craving. From trendy restaurants to classic Chicago deep-dish pizza joints, there is something for everyone. Additionally, the area offers excellent shopping opportunities, with both high-end boutiques and renowned department stores within walking distance.
Transportation and Accessibility
Millennium Park is easily accessible via public transportation, making it convenient for both locals and visitors. The park is served by several CTA bus and train lines, allowing you to reach it from various parts of the city. If you prefer driving, there are parking garages available nearby, although it's important to note that parking in downtown Chicago can be expensive. Consider using rideshare services or renting a bike to navigate the city's streets.
Seasonal Events and Festivities
Winter Festivals and Celebrations
Chicago embraces the winter season with a variety of festivals and celebrations. From the annual Winter Wonderfest at Navy Pier to the festive Christkindlmarket in Daley Plaza, there are numerous events that showcase the city's holiday spirit. These festivals often feature ice skating performances, live music, seasonal food and drinks, and unique shopping opportunities.
Holiday Lights and Decorations
During the holiday season, Millennium Park and its surrounding areas are adorned with dazzling lights and festive decorations. The park's Christmas tree, located near the McCormick Tribune Ice Rink, is a sight to behold, with thousands of twinkling lights illuminating the area. Take a leisurely stroll through the park at night to immerse yourself in the magical ambiance and capture memorable photographs.
Special Skating Events and Performances
Throughout the winter season, special skating events and performances are held at the McCormick Tribune Ice Rink and the Skating Ribbon. These events showcase the talents of professional skaters, offering a unique experience for spectators. From graceful figure skating routines to thrilling ice hockey matches, there's always something exciting happening on the ice. Check the official event calendars for updates on upcoming performances.
Exploring Chicago's Winter Wonderland
Museums and Cultural Attractions
While ice skating is a highlight of winter in Chicago, the city offers a wealth of cultural attractions to explore during your visit. Take advantage of the colder weather to visit renowned museums such as the Art Institute of Chicago, the Museum of Science and Industry, or the Field Museum. These institutions provide a deeper understanding of art, history, and science, allowing you to immerse yourself in Chicago's rich cultural heritage.
Outdoor Activities and Winter Sports
Chicago winters provide ample opportunities for outdoor activities and winter sports beyond ice skating. If you're feeling adventurous, consider trying cross-country skiing or snowshoeing in nearby parks such as Northerly Island or Grant Park. You can also join a winter hiking group or participate in snowball fights with friends and family. Embrace the snowy landscapes and make the most of the winter season.
Food and Drink Recommendations
After a day of exploring and enjoying winter activities, treat yourself to some of Chicago's renowned food and drink offerings. Indulge in comforting deep-dish pizza from iconic pizzerias like Lou Malnati's or Giordano's. Warm up with a cup of hot chocolate from Mindy's HotChocolate or try unique seasonal cocktails at speakeasies like The Violet Hour. Chicago's culinary scene is diverse and vibrant, offering something for every palate.
Testimonials and Reviews
Visitor Experiences and Recommendations
Visitors to Millennium Park often share their experiences and recommendations, providing valuable insights for future skaters. Many highlight the beauty of the rink's surroundings, the friendly atmosphere, and the fun-filled memories created on the ice. Testimonials often mention the convenience of online reservations and the availability of skate rentals, making the experience accessible to all.
Social Media Buzz and Highlights
Social media platforms are filled with captivating photos and videos of ice skating in Millennium Park. Skaters share their joy and excitement, showcasing the beauty of the rinks and the vibrant energy of the city during the winter season. Hashtags such as #MillenniumParkIceSkating and #ChicagoWinterFun allow you to explore user-generated content and get a glimpse of the skating experience from various perspectives.
Ice skating in Millennium Park is a cherished Chicago tradition that offers a unique and memorable winter experience. Whether you choose to glide on the McCormick Tribune Ice Rink or embark on an adventure along the Skating Ribbon in Maggie Daley Park, you'll be immersed in the beauty of the city and its winter wonderland. Plan your visit, bundle up, and get ready to create unforgettable memories on the ice in the heart of Chicago.