Navy Pier, located on the shores of Lake Michigan in Chicago, is an iconic destination that offers a wide range of attractions, events, and experiences. As one of the Midwest's top destinations, Navy Pier has undergone recent renovations to transform it into a vibrant hub for food, entertainment, and family-friendly activities. In this comprehensive guide, we will take you on a journey to discover the best that Navy Pier has to offer.
History of Navy Pier
Navy Pier has a rich history that dates back to its opening in 1916. Originally known as the "Municipal Pier," it was designed by architects Charles Sumner Frost, Daniel Burnham, and Edward H. Bennett as a multipurpose dock and recreational space. Throughout its early years, Navy Pier served as a hub for freight and passenger traffic, as well as hosting various events and expositions.
During World War I, the pier was renamed Navy Pier to honor the naval veterans who served in the war. In World War II, it became a training center for the United States Navy, accommodating thousands of personnel. After the war, the pier was underutilized until its redevelopment in 1995.
Attractions at Navy Pier
Navy Pier offers a plethora of attractions that cater to visitors of all ages. Let's explore some of the most exciting experiences you can have at this iconic destination.
Centennial Wheel: A Bird's Eye View of Chicago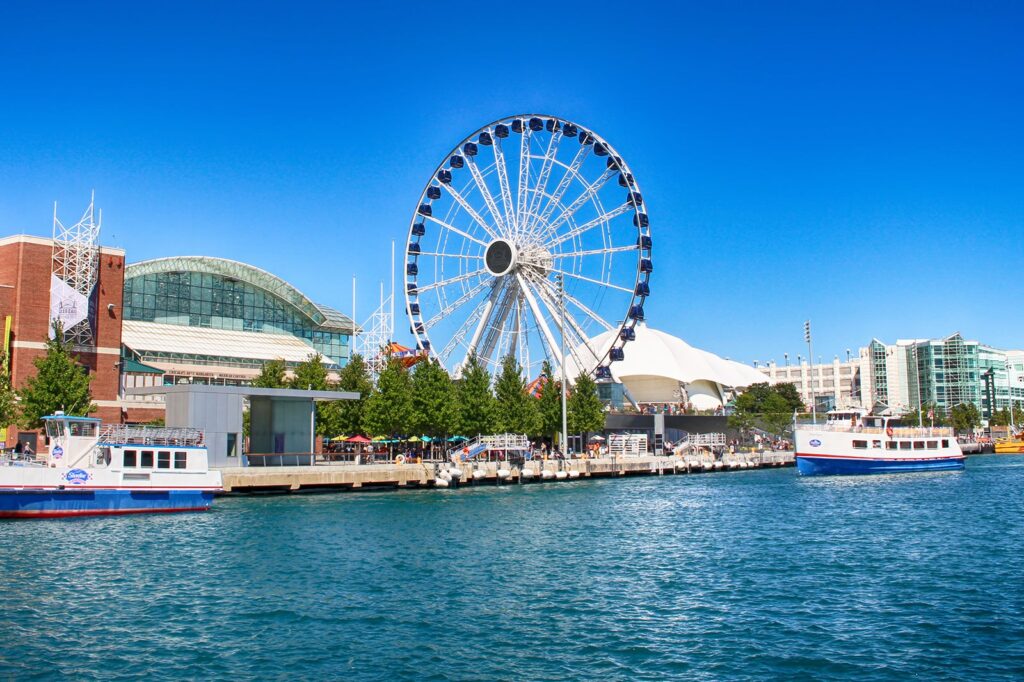 One of the highlights of Navy Pier is the Centennial Wheel, a towering Ferris wheel that stands at nearly 200 feet tall. Offering breathtaking views of the city skyline and Lake Michigan, this iconic attraction is a must-visit. The enclosed gondolas provide a comfortable ride for visitors, allowing them to enjoy the scenery in any weather. For a truly special experience, consider booking a VIP Centennial Wheel ride in a glass-bottomed, plush-seated gondola.
Pier Park: Fun for the Whole Family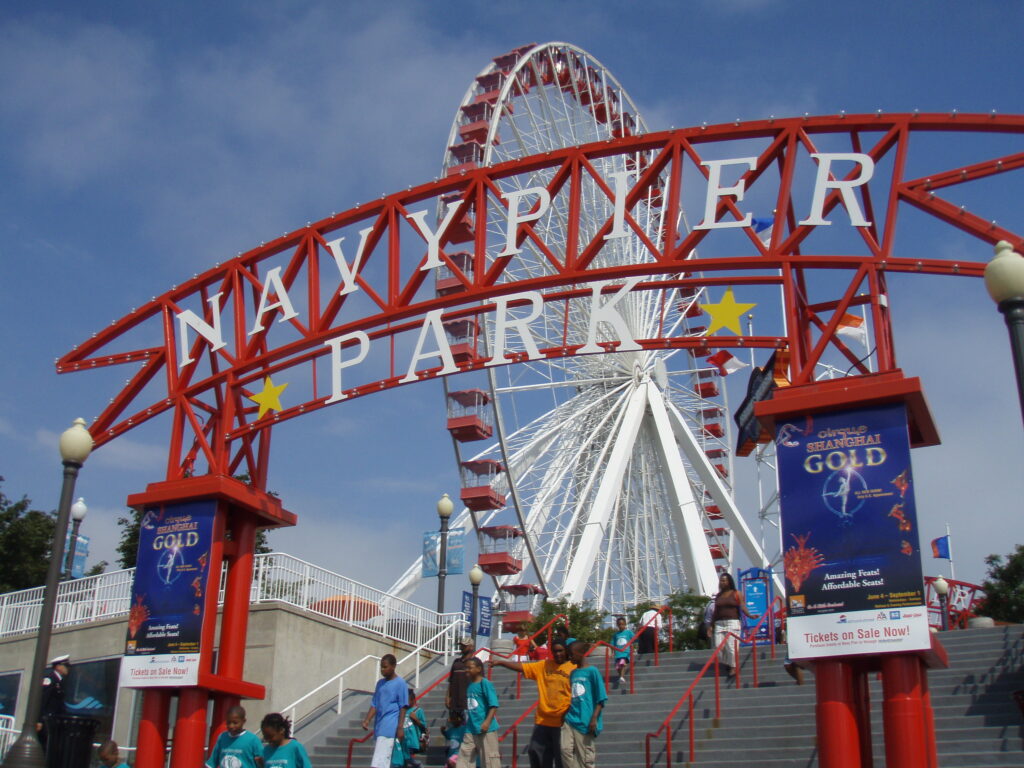 Pier Park is a haven of entertainment and excitement at Navy Pier. This vibrant area features a variety of thrilling rides and nostalgic fairground attractions. Take a spin on the Pepsi Wave Swinger, a classic swing ride that offers panoramic views of the pier and lake. Don't miss the 1920s-inspired musical carousel, where you can enjoy a whimsical ride on beautifully hand-painted animals. Pier Park is the perfect place for families to create lasting memories.
Chicago Children's Museum: Unleash Your Child's Imagination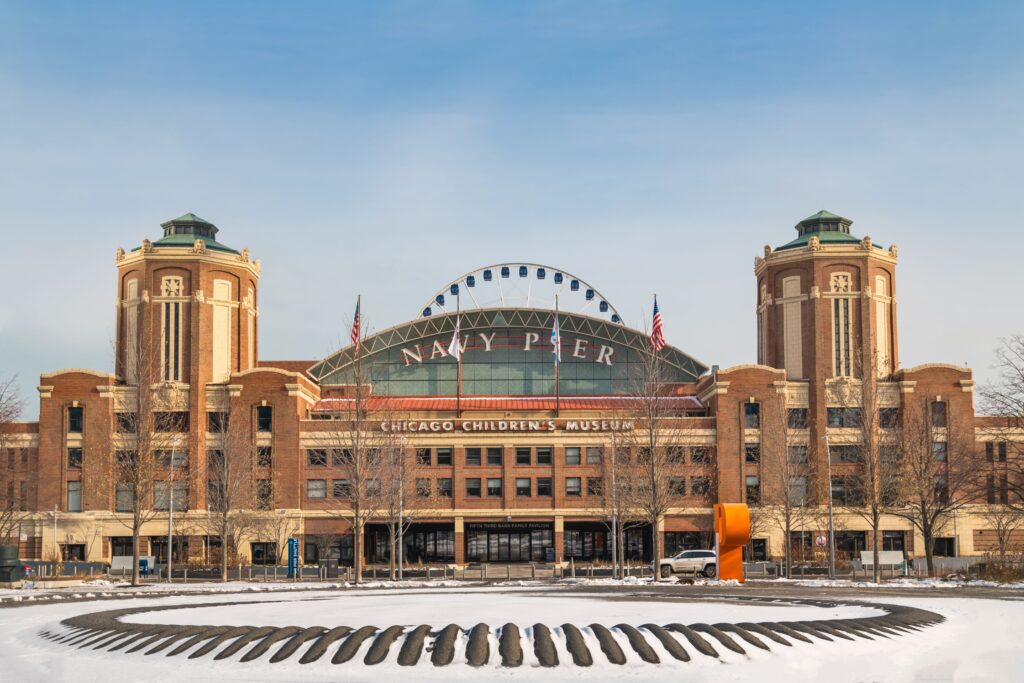 For families with young children, a visit to the Chicago Children's Museum is a must. Located within Navy Pier, this interactive museum offers three floors of educational and imaginative exhibits. Kids can dig for dinosaur bones, climb aboard a three-story schooner, and splash around in a water playground. The museum also has a store where you can find fun and educational toys and games.
Cultural Attractions and Museums
Navy Pier is home to several cultural attractions and museums that celebrate art, theater, and history. The Chicago Shakespeare Theater, a Tony Award-winning theater, hosts a year-round season of plays, musicals, and world premieres. The Yard, an innovative stage design, allows for unique and immersive theatrical experiences.
Another cultural gem at Navy Pier is the Polk Bros Park, which features a dramatic fountain with mesmerizing water displays. The park also hosts live arts and cultural events, providing a picturesque backdrop of Lake Michigan and the Chicago skyline.
Outdoor Adventures at Navy Pier
Navy Pier offers a range of outdoor activities that allow visitors to embrace the natural beauty of the lakefront. From boat cruises to bike tours, there's something for everyone to enjoy.
Boat Cruises and Tours: Sailing on Lake Michigan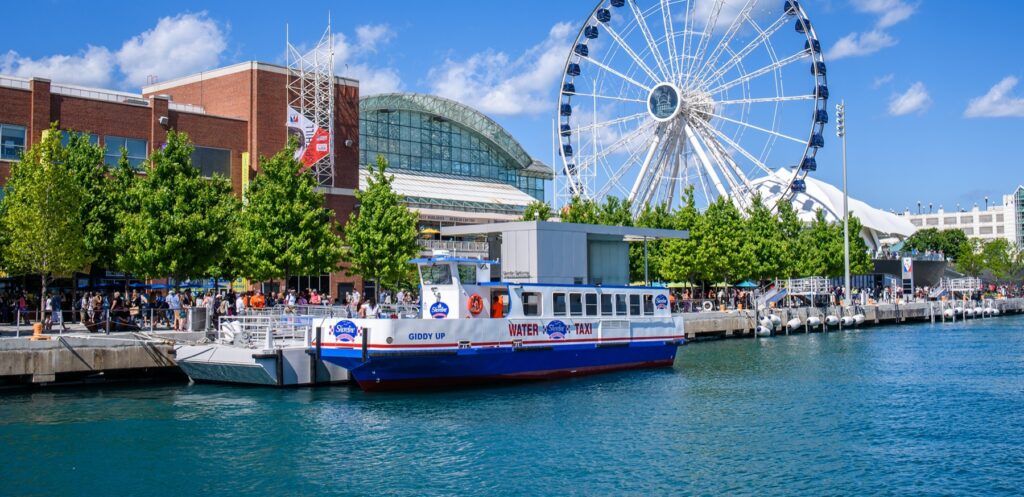 Experience the beauty of Lake Michigan and the Chicago River with a boat cruise or tour from Navy Pier. From laid-back sightseeing cruises to elegant dining experiences, there are options to suit every preference. Thrill-seekers can embark on heart-pumping thrill rides, while those seeking a more leisurely experience can opt for private charters. There's even a cruise that allows you to bring your furry friend along.
Bus and Bike Tours: Exploring Chicago's Landmarks
Discover the best of Chicago's landmarks and attractions with bus and bike tours from Navy Pier. Hop on a Chicago Big Bus Tour to see the city's iconic sights, or join an architecture and sightseeing cruise to learn about the city's rich architectural heritage. For a more active adventure, rent a bike from Navy Pier's Divvy station and explore the picturesque lakefront at your own pace.
Public Art and Exhibitions: A Celebration of Creativity
Navy Pier is home to a vibrant art scene, with a rotating array of contemporary art installations and exhibits. These artistic displays aim to excite and inspire visitors, showcasing the creativity and talent of local and international artists. Stroll along the pier and immerse yourself in the ever-changing world of public art.
Dining and Refreshments at Navy Pier
Navy Pier is a paradise for food enthusiasts, offering a diverse range of dining options to satisfy every craving. Indulge in Chicago's famous deep-dish pizza, enjoy farm-to-table comfort food, or sip on a refreshing cocktail while taking in the stunning lakefront views.
Giordano's: Deep-Dish Pizza Delight
No visit to Chicago is complete without trying the city's famous deep-dish pizza, and Giordano's at Navy Pier is the perfect place to indulge. Sink your teeth into a slice of cheesy goodness and join the ongoing debate on whether it's pizza or casserole. Be sure to make a reservation in advance to avoid long waiting times.
The Original Rainbow Cone: A Colorful Delight
Satisfy your sweet tooth with a visit to The Original Rainbow Cone, a Chicago institution since 1926. This iconic ice cream shop serves up their signature five-flavor ice cream cone, which has become an Instagram sensation. With a variety of flavors to choose from, you're sure to find a combination that delights your taste buds.
Reunion: Southern Comfort Food with a Twist
Experience the flavors of the South with a visit to Reunion, a restaurant by celebrity chef Art Smith. Known for his down-home cooking, Chef Smith showcases his culinary skills with a farm-to-table approach and a Midwestern twist. Indulge in comfort food made with locally sourced ingredients and savor the unique blend of Southern and Midwestern flavors.
Harry Caray's Tavern: Sports and Smoked Meats
Sports fans can't miss a visit to Harry Caray's Tavern, a waterfront BBQ tavern that pays homage to the legendary sports announcer. Indulge in delicious smoked meats, craft beers, and soak in the sports memorabilia that adorns the walls. The outdoor patio, equipped with HDTVs, is the perfect spot to cheer on your favorite team or enjoy the beauty of Lake Michigan.
Holidays at Navy Pier: A Magical Experience
Navy Pier comes alive during the holiday season, offering a range of festive activities that will fill you with holiday cheer.
Odyssey Cruises: A Holiday Feast on the Lake
Celebrate the holiday season in style with a Lakefront Holiday Dinner Cruise aboard Odyssey Cruises. Sail on Lake Michigan while enjoying a three-course plated holiday menu and taking in the breathtaking views of the city's skyline. Dance the night away on the boat as you create lasting memories.
Light Up the Lake: A Dazzling Indoor Light Show
Immerse yourself in the holiday spirit with Light Up the Lake, Navy Pier's largest indoor light show. Wander through the Winter Wonderfest Forest, marvel at interactive light displays, and lace up your skates for a whimsical ice skating experience. Don't forget to say hello to Santa Claus himself!
Plan Your Visit to Navy Pier
Navy Pier is easily accessible by car or public transportation, making it convenient for visitors from near and far. If you're driving, there are on-site parking garages and valet parking available. Public transportation options include CTA buses, which directly service Navy Pier from various rail stations and "L" stops.
To make the most of your visit, check the Navy Pier events calendar for upcoming attractions, performances, and festivals. Consider holding your special event at Navy Pier, where breathtaking venues and unmatched service will ensure an unforgettable experience for you and your guests.
As a nonprofit organization, Navy Pier relies on support to continue offering free public programs and maintaining its world-class attractions. Your contribution helps bring these programs to life and supports the vibrant arts and cultural scene at Navy Pier.
Come and discover the wonders of Navy Pier, where adventure, entertainment, and culinary delights await. Whether you're a local or a visitor, there's something for everyone at this iconic Chicago destination. Plan your visit today and create memories that will last a lifetime.
Navy Pier in Chicago is a treasure trove of entertainment, dining, and cultural experiences. With its rich history, diverse attractions, and stunning lakefront views, it captivates visitors from all walks of life. From the soaring heights of the Centennial Wheel to the mouthwatering flavors of the city's best restaurants, Navy Pier offers an unforgettable journey through the heart of Chicago. So, pack your bags and embark on a grand adventure at Navy Pier – the People's Pier – where discovery and wonder await at every turn.