Maggie Daley Park: A Vibrant Oasis in the Heart of Chicago
Welcome to Maggie Daley Park, a 20-acre public park nestled in the vibrant Loop community area of Chicago. Operated by the Chicago Park District, this stunning park offers a wide range of attractions and amenities for visitors of all ages. Named after the beloved former first lady of the city, Maggie Daley, the park is a testament to her legacy and commitment to providing a beautiful outdoor space for the community to enjoy.
A Park Reimagined: From Bicentennial Plaza to Maggie Daley Park
Maggie Daley Park stands on the site where the Daley Bicentennial Plaza once stood. In 2012, plans were announced to transform the plaza into a new and exciting park, replacing a previous controversial proposal for a children's museum. The construction process began in 2012, and after two years of hard work and a $60 million investment, Maggie Daley Park opened its doors to the public on December 13, 2014.
Designed by renowned landscape architect Michael Van Valkenburgh, the park showcases his ingenuity and creativity. With its picturesque location near Lake Michigan and its seamless connection to Millennium Park via the BP Pedestrian Bridge, Maggie Daley Park has become a beloved destination for both locals and tourists alike.
Exploring the Park: Attractions and Features
Maggie Daley Park offers a plethora of attractions and features that cater to a diverse range of interests. Whether you're a sports enthusiast, nature lover, or simply looking for a place to relax and unwind, this park has something for everyone.
The Skating Ribbon: A Winter Wonderland
During the winter months, the skating ribbon at Maggie Daley Park transforms into a magical winter wonderland. Spanning one-quarter mile, the ribbon offers a unique ice skating experience amidst stunning views of the city skyline. Lace up your skates and glide along the winding path, surrounded by beautifully landscaped gardens. The skating ribbon is a must-visit attraction for both experienced skaters and beginners alike.
Climbing Walls and Playgrounds: Unleash Your Adventurous Spirit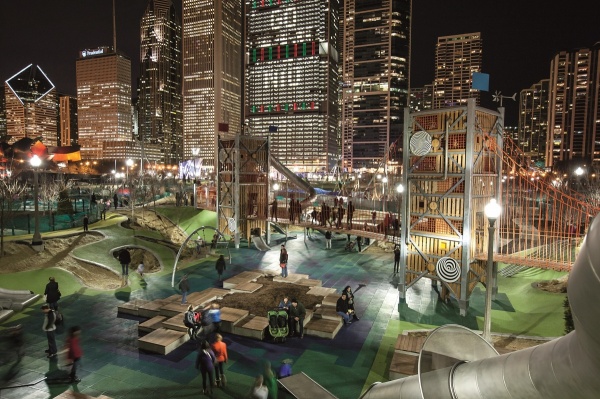 For those seeking a thrill, Maggie Daley Park boasts impressive climbing walls that challenge both kids and adults. These towering structures provide a safe and exhilarating environment for climbers of all skill levels. Whether you're a seasoned climber or trying it for the first time, the climbing walls at Maggie Daley Park offer a unique and exciting experience.
Additionally, the park features multiple playgrounds that cater to children of all ages. From the Wave Lawn and The Harbor to The Watering Hole and The Enchanted Forest, these play areas provide endless opportunities for little ones to explore, play, and let their imaginations run wild.
Picnic Groves and Outdoor Spaces: A Perfect Retreat
Maggie Daley Park offers numerous picnic groves and outdoor spaces where visitors can relax, enjoy a meal, or simply soak in the beauty of nature. Spread out a blanket and have a leisurely picnic with family and friends, surrounded by lush greenery and breathtaking views. These well-maintained picnic areas provide a peaceful retreat from the hustle and bustle of the city.
Tennis and Pickleball Courts: Game On!
Sports enthusiasts will find their haven at Maggie Daley Park's tennis and pickleball courts. These well-maintained facilities allow visitors to engage in friendly matches or take part in organized tournaments. Channel your inner athlete and enjoy a game of tennis or pickleball against the backdrop of Chicago's stunning skyline.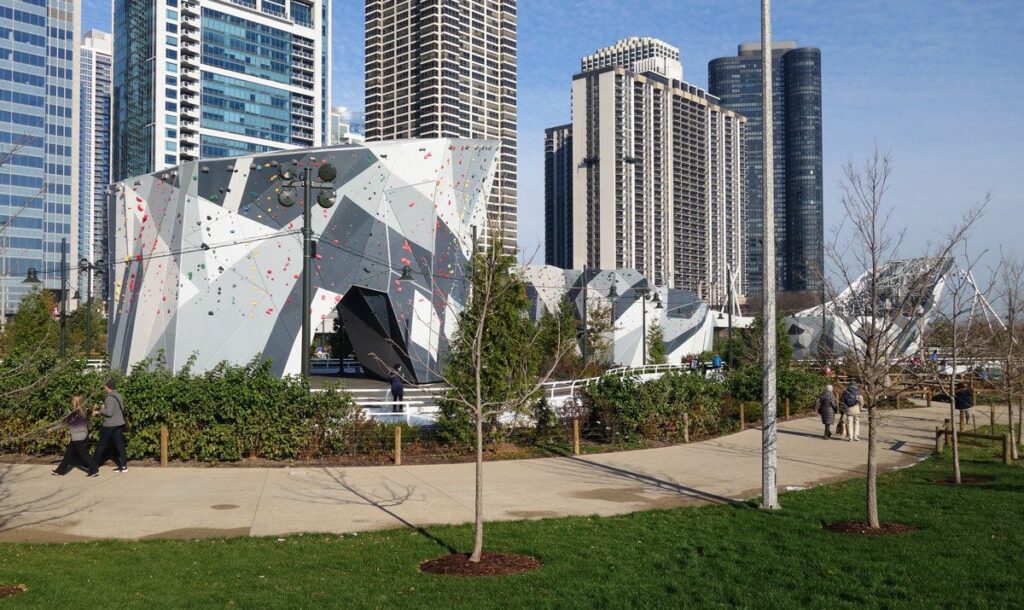 The Bloch Cancer Survivors Garden: A Place of Hope and Reflection
Maggie Daley Park is also home to the Richard and Annette Bloch Cancer Survivors Garden, a serene and contemplative space dedicated to honoring those who have battled cancer. This beautifully landscaped garden provides a haven for reflection and serves as a reminder of the strength and resilience of cancer survivors. Pay a visit to this peaceful oasis and find solace amidst its tranquil surroundings.
Park Hours and Fieldhouse Information
Maggie Daley Park is open seven days a week, providing ample opportunities for visitors to explore and enjoy its many attractions. The park opens at 6:00 am and closes at 9:00 pm daily. The fieldhouse, which hosts various Chicago Park District programs, operates on a slightly different schedule. Please refer to the table below for the fieldhouse hours:
| | | |
| --- | --- | --- |
| Sunday | Closed | |
| Monday | 9:00 am-6:00 pm | |
| Tuesday | 9:00 am-6:00 pm | |
| Wednesday | 9:00 am-6:00 pm | |
| Thursday | 9:00 am-6:00 pm | |
| Friday | 9:00 am-6:00 pm | |
| Saturday | 9:00 am-12:00 pm | |

Getting Involved: Work, Volunteer, and Support the Park
Maggie Daley Park offers numerous opportunities for community members to get involved and contribute to the park's success. Whether you're interested in working for the park, volunteering your time, or making a donation, there are various ways to show your support.
Work for the Parks: Join the Maggie Daley Park Team
If you have a passion for parks and a desire to make a positive impact, consider joining the Maggie Daley Park team. The park offers a range of employment opportunities, from seasonal positions to full-time careers. Visit the Chicago Park District's jobs page to explore available positions and start your journey towards a rewarding career in park management.
Volunteer: Give Back to Your Community
Volunteering at Maggie Daley Park is a wonderful way to give back to your community while enjoying the beauty of the park. Whether you're interested in assisting with park events, maintaining the gardens, or helping with park programs, your time and effort can make a real difference. Visit the park's volunteer page to learn more about volunteer opportunities and how to get involved.
Support the Park: Donate to Maggie Daley Park
If you're passionate about preserving and enhancing Maggie Daley Park for future generations, consider making a donation. Your contribution will support ongoing maintenance, programming, and improvements to ensure that the park remains a vibrant and welcoming space for all. To make a donation, visit the park's donation page and follow the instructions to contribute to this treasured community asset.
Plan Your Visit to Maggie Daley Park
Maggie Daley Park is conveniently located at 337 E. Randolph St., Chicago, IL 60605. With its central location in the Loop community area, the park is easily accessible by public transportation and offers ample parking options for those arriving by car.
Before you visit, be sure to check the park's website, maggiedaleypark.com, to stay updated on park hours, upcoming events, and any temporary closures or restrictions. Additionally, consider exploring the park's interactive map to familiarize yourself with the layout and plan your visit accordingly.
Discover the Magic of Maggie Daley Park
Maggie Daley Park is more than just a park; it's a vibrant oasis in the heart of Chicago. From its innovative attractions and recreational facilities to its serene gardens and picnic groves, this park has something for everyone to enjoy. Whether you're seeking adventure, relaxation, or a place to connect with nature, Maggie Daley Park offers an unforgettable experience.
Immerse yourself in the beauty of this urban oasis, explore its diverse attractions, and create lasting memories with family and friends. Discover the magic of Maggie Daley Park and experience the immense joy and sense of community that it brings to all who visit. Start planning your visit today and prepare for an extraordinary adventure.