Welcome to Soldier Field: A Historic Landmark in Chicago
‍Located on the Near South Side of Chicago, Illinois, Soldier Field stands as an iconic multi-purpose stadium with a rich history and multifaceted usage. Acting as the home for the Chicago Bears of the National Football League (NFL) since 1971, and Chicago Fire FC of Major League Soccer (MLS) intermittently, it has seen countless thrilling sports events. More than just a sports ground, it has been a site for significant historical events, concerts, festivals, and more.

Situated at 1410 Special Olympics Drive, Soldier Field's prime location in Chicago is well-connected via public transit, including Metra, the city's rapid transit system, and various bus routes. It is also conveniently positioned within the proximity of some of the city's major attractions, such as the Shedd Aquarium and the Field Museum.
Architectural Marvel: From Past to Present
Soldier Field has undergone numerous transformations since its inauguration in 1924. Initially known as Municipal Grant Park Stadium, it was renamed Soldier Field in 1925 as a tribute to U.S. soldiers who had sacrificed their lives during World War I.
Built at a cost of $13 million, a substantial amount at the time, the original structure was a reflection of the Neoclassical style, complete with Doric columns rising above its East and West entrances. Its initial seating capacity was 74,280, which could be expanded to over 100,000 with additional seating.
In 2002, a significant renovation project led to the rebuilding of the stadium's interior, enhancing its facilities while reducing its seating capacity. Despite the backlash it faced for altering a historical structure, the renovated Soldier Field emerged as an architectural spectacle, adeptly blending the old with the new.
Sporting Legacy: More Than Just Football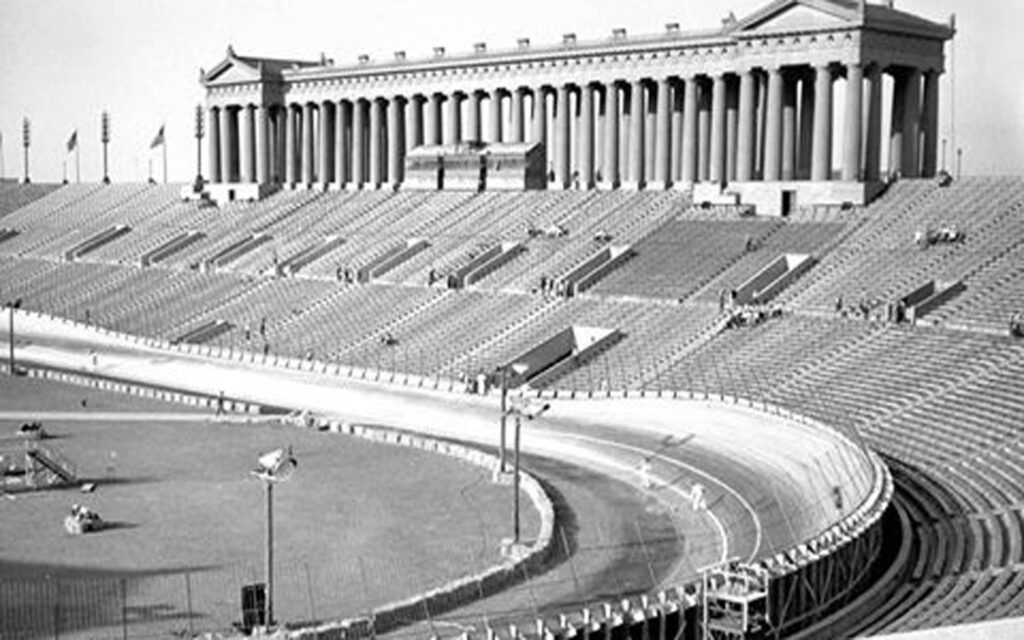 While Soldier Field is synonymous with the Chicago Bears, its history of hosting sporting events is diverse. It has been a venue for the Notre Dame Fighting Irish football team, the Chicago Cardinals of the NFL, and various other teams across different sports leagues.
Notably, the stadium has hosted some of the most significant matches in soccer history, including the 1994 FIFA World Cup, the 1999 FIFA Women's World Cup, and multiple CONCACAF Gold Cup championships.
Memorable Moments in History
Soldier Field has been a witness to numerous historic moments. It was the venue for the 1926 Army-Navy game that saw over 100,000 spectators. The stadium hosted its first college football game in 1924, where Notre Dame emerged victorious over Northwestern University.
Moreover, Soldier Field has been the backdrop for many non-sporting events of significance. In 1932, a war show celebrating George Washington's bicentennial featured Amelia Earhart. In 1944, it accommodated over 150,000 spectators for a wartime visit by President Franklin Roosevelt.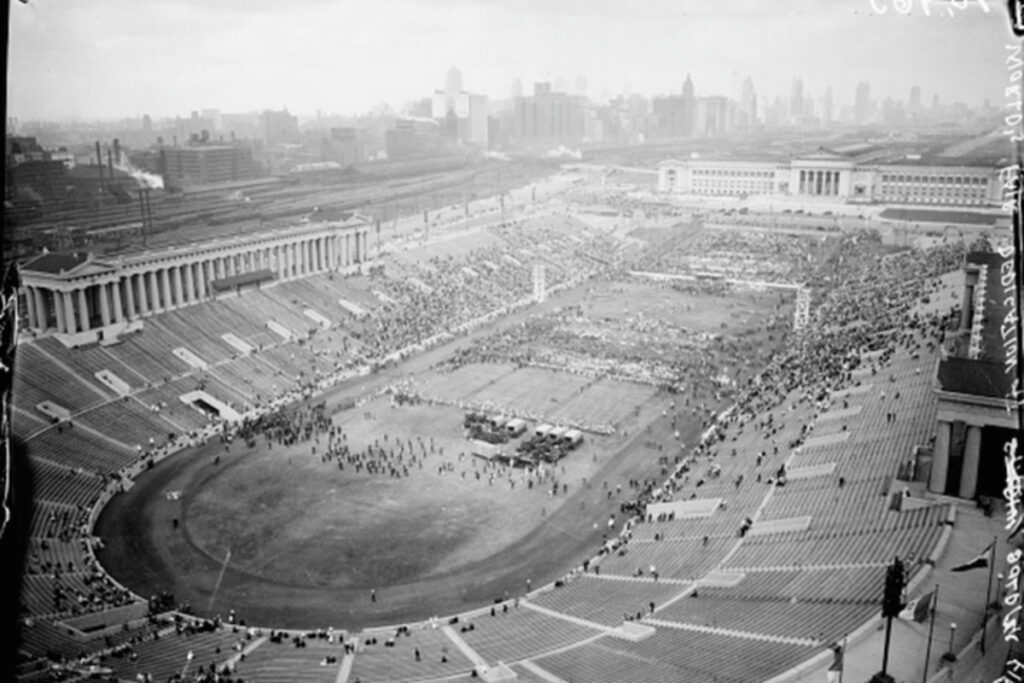 Special Features: More Than a Stadium
Beyond its primary function as a sports venue, Soldier Field offers several unique features. The Children's Garden offers families a unique space for learning and entertainment. The colonnades, open to the public year-round, offer a stunning view of the city and Lake Michigan.
The Doughboy Statue, a tribute to the men and women of the armed services, welcomes visitors at Gate O. The Memorial Water Wall, a 250-foot long granite structure, honors the different branches of the armed services.
Parklands: A Space for All
Surrounding Soldier Field is a 17-acre parkland, a space created for public enjoyment. Beautifully landscaped, it is home to family areas such as the Children's Garden and Veteran's Memorial. Seasonal family events and public and private events are held in this area, providing a wonderful space for the community to engage in various activities.
A New Era: Soldier Field Today
Today, Soldier Field continues to be a hub of activity, hosting a range of events from sports matches to concerts. In 2012, it became the first NFL stadium to achieve LEED status, recognizing its commitment to environmental sustainability.
Moreover, its role in promoting sports extends beyond professional leagues. In 1968, it hosted the inaugural Special Olympics games, marking a significant milestone in sports history.
A Testament to History and Progress
Soldier Field stands as a testament to Chicago's rich history and progress. It embodies the spirit of the city – resilient, vibrant, and forward-looking. Whether it is the roar of the crowd during a Bears game, the cheers of a concert, or the quiet reflection at the Doughboy statue, Soldier Field is more than just a stadium. It is a symbol of Chicago's past, present, and future.
As Soldier Field continues to evolve and adapt, it remains a beloved icon, steadfastly holding its ground on the shores of Lake Michigan, celebrating its legacy while embracing the promise of tomorrow.