Best Places to See Fall Leaves Near Chicago: A Spectacular Autumn Journey
Are you ready to immerse yourself in the vibrant colors of fall? Chicago, known for its stunning skyline and bustling city life, also offers breathtaking natural beauty during the autumn season. As the leaves change from green to vibrant shades of red, orange, and yellow, the city transforms into a picturesque wonderland. In this comprehensive guide, we will explore the best places in and around Chicago to experience the magic of fall foliage. From tranquil parks to scenic drives, each location promises a unique and unforgettable adventure.
As summer fades away and the crisp air of autumn settles in, Chicago becomes a haven for leaf-peepers seeking nature's colorful spectacle. While the Midwest may not rival the famous fall foliage of New England, it offers its own unique charm. From mid-September to late October, the trees in and around Chicago burst into a kaleidoscope of fiery hues, filling the city and its outskirts with a vibrant energy.
To embark on a memorable fall journey, you don't have to venture far from the city. Within a few hours' drive, you'll find enchanting destinations that showcase nature's artistry. Whether you prefer hiking through lush forests, exploring charming small towns, or taking scenic drives, there's something for everyone in this guide. So grab your camera, put on your coziest sweater, and let's discover the best places to see fall leaves near Chicago.
Morton Arboretum: A Nature Lover's Paradise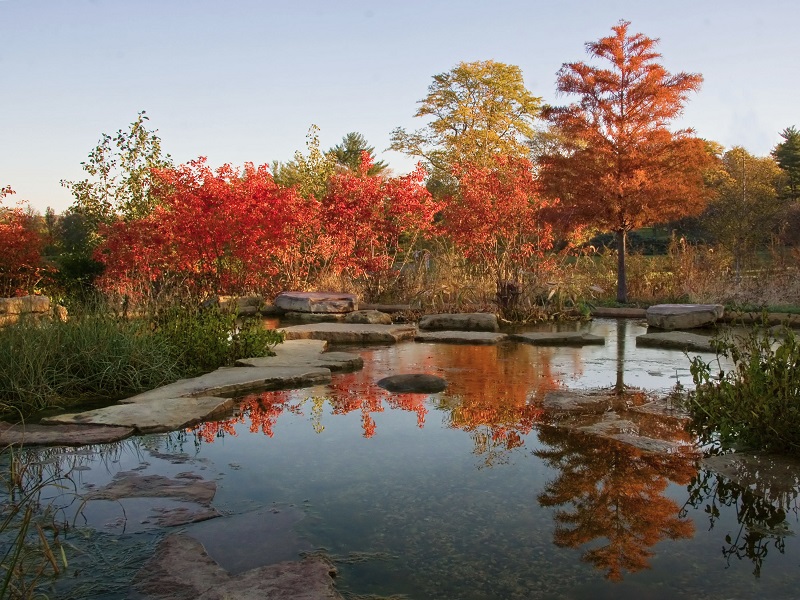 For those who prefer to stay close to Chicago, the Morton Arboretum is a perfect destination to witness the beauty of fall foliage. Located in Lisle, Illinois, this 1,700-acre "tree museum" offers a diverse collection of trees and plants. As you wander through the arboretum's East and West Sides, you'll be enveloped in a symphony of colors.
The Morton Arboretum features numerous paved and unpaved trails, allowing visitors to explore at their own pace. Whether you prefer a leisurely stroll or a more vigorous hike, there's a trail for every level of fitness. As you traverse the paths, you'll encounter majestic oaks, maples, and other tree species showcasing their autumn attire.
One of the highlights of the Morton Arboretum is Lake Marmo on the West Side. This serene lake provides the perfect backdrop for capturing stunning fall photographs. Take a moment to sit by the water's edge, breathe in the crisp air, and admire nature's artistry. The Morton Arboretum is a sanctuary of tranquility and natural beauty, offering a peaceful escape from the bustling city.
Shawnee National Forest: Nature's Masterpiece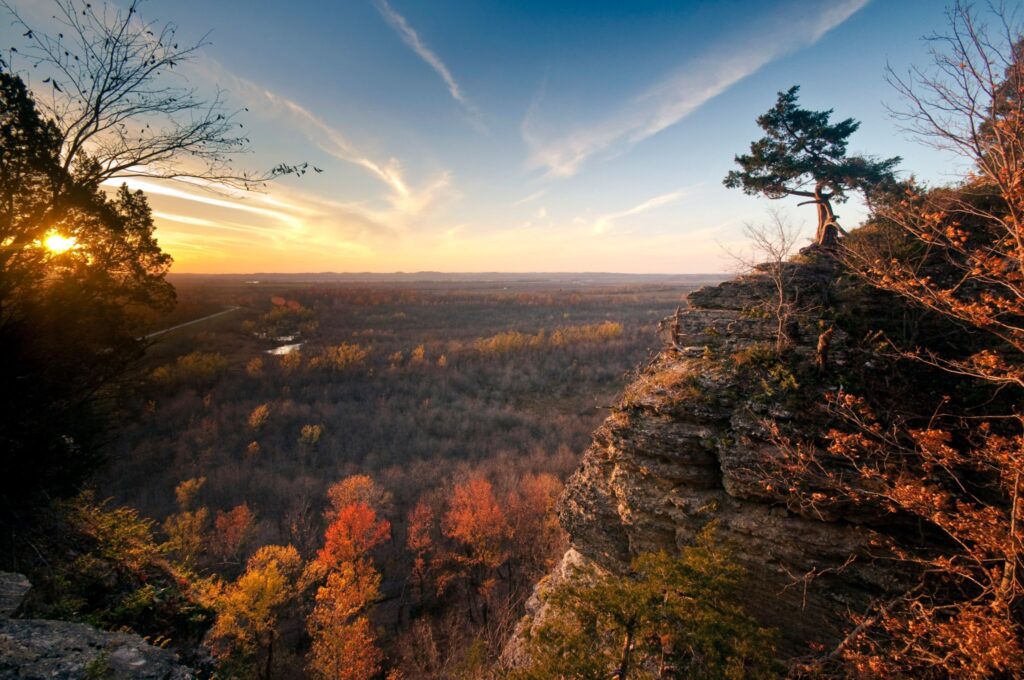 Now this one is a little bit of a drive from Chicago… but if you're adventurous… located on the southernmost tip of Illinois, Shawnee National Forest is a hidden gem for leaf-peepers. Spanning nearly 300,000 acres, this nature-lover's paradise is home to a diverse array of trees, including oak and hickory. As autumn descends upon Shawnee, the forest transforms into a vibrant canvas of reds, oranges, and yellows.
One of the highlights of Shawnee National Forest is the Garden of the Gods. This ancient rock formation, dating back 320 million years, offers panoramic views of the surrounding landscape. To reach the Garden of the Gods, embark on the quarter-mile Observation Trail, a winding path that leads to a breathtaking vista point. As you hike, take a moment to read the interpretive signs along the trail, which provide fascinating insights into the area's geological history.
For a different perspective, explore the miles of hiking trails that crisscross Shawnee National Forest. Each trail offers a unique experience, from serene walks along peaceful streams to challenging climbs up rugged hills. No matter which trail you choose, you'll be rewarded with stunning foliage and a deep connection with nature.
Galena: A Quaint Town of Fall Delights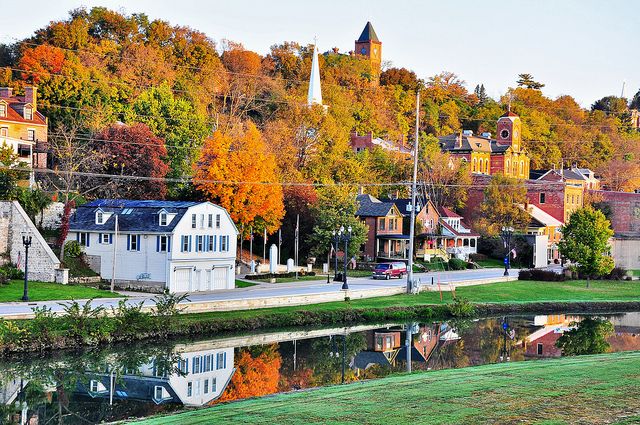 If you're seeking small-town charm and fall splendor, look no further than Galena in Northern Illinois. This picturesque town, known for its historic architecture and boutique shops, becomes even more enchanting when fall arrives. As you stroll through Galena's streets, you'll be greeted by the sight of vibrant trees lining the sidewalks, creating a scenic backdrop for your autumn adventures.
One of the must-visit spots in Galena during the fall is Horseshoe Mound Preserve. This 1063-foot scenic outlook offers panoramic views of the Mississippi River and the surrounding countryside. On a clear day, you can see for miles, capturing the beauty of the fall foliage in all its glory. You can reach the top of the preserve by hiking along groomed trails or driving up a short dirt road.
While in Galena, don't forget to explore the town's charming shops, art galleries, and restaurants. Sample local flavors, indulge in fall-themed treats, and immerse yourself in the warm hospitality of this welcoming community. Galena is a true gem for fall enthusiasts seeking a cozy and idyllic autumn experience.
Brown County State Park: Hoosier Beauty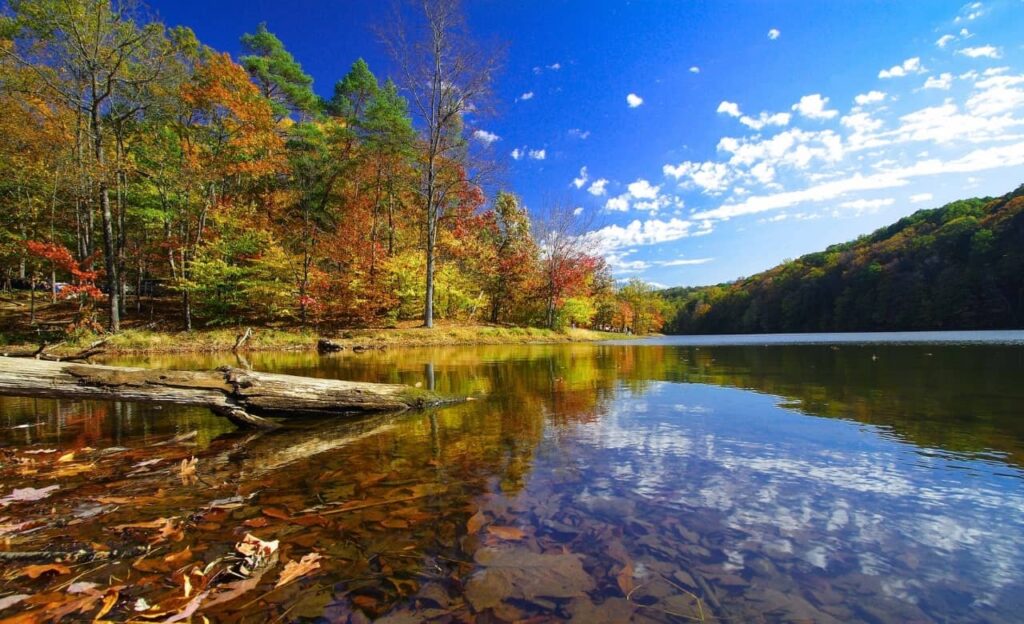 Venture into neighboring Indiana, and you'll discover the natural wonderland of Brown County State Park. This expansive park, spanning over 16,000 acres, is a haven for outdoor enthusiasts and fall foliage enthusiasts alike. With its rolling hills, dense forests, and breathtaking vistas, Brown County State Park promises an unforgettable autumn experience.
One of the best ways to immerse yourself in the beauty of Brown County is by exploring its hiking trails. From rugged paths to leisurely walks, there's a trail for every level of hiker. As you traverse the forested trails, you'll be surrounded by a tapestry of colorful leaves, creating a magical ambiance.
An iconic spot within Brown County State Park is the Fire Tower. Standing at 90 feet tall, this tower offers panoramic views of the park's stunning landscape. Ascend the tower's steps, and you'll be rewarded with a bird's-eye view of the vibrant fall foliage stretching as far as the eye can see. Capture the moment and create memories that will last a lifetime.
Indiana Dunes National Park: A Beachside Fall Retreat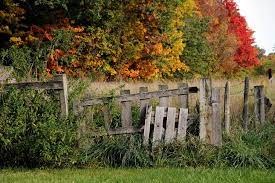 While Indiana Dunes National Park is known for its sandy beaches and sparkling waters, it also offers a unique fall experience. As the summer crowds dissipate, the park's 15 miles of Lake Michigan shoreline become a tranquil haven for leaf-peepers. With fewer visitors and ample room to explore, you can fully immerse yourself in the beauty of fall.
Embark on one of the park's many hiking trails, and you'll be treated to a symphony of colors as you wander through the dunes and forests. Miller Woods, in particular, offers a serene escape where you can listen to the rustling leaves and breathe in the crisp autumn air. This hidden gem within Indiana Dunes National Park is the perfect spot for a peaceful fall retreat.
If you prefer a more leisurely experience, take a scenic drive along Highway 12 or The Dunes and Lake Drive. As you cruise along these picturesque roads, you'll be treated to breathtaking vistas of the park's foliage. The combination of vibrant leaves and the sparkling waters of Lake Michigan creates an awe-inspiring sight.
Emmet County's Tunnel of Trees: A Scenic Drive to Remember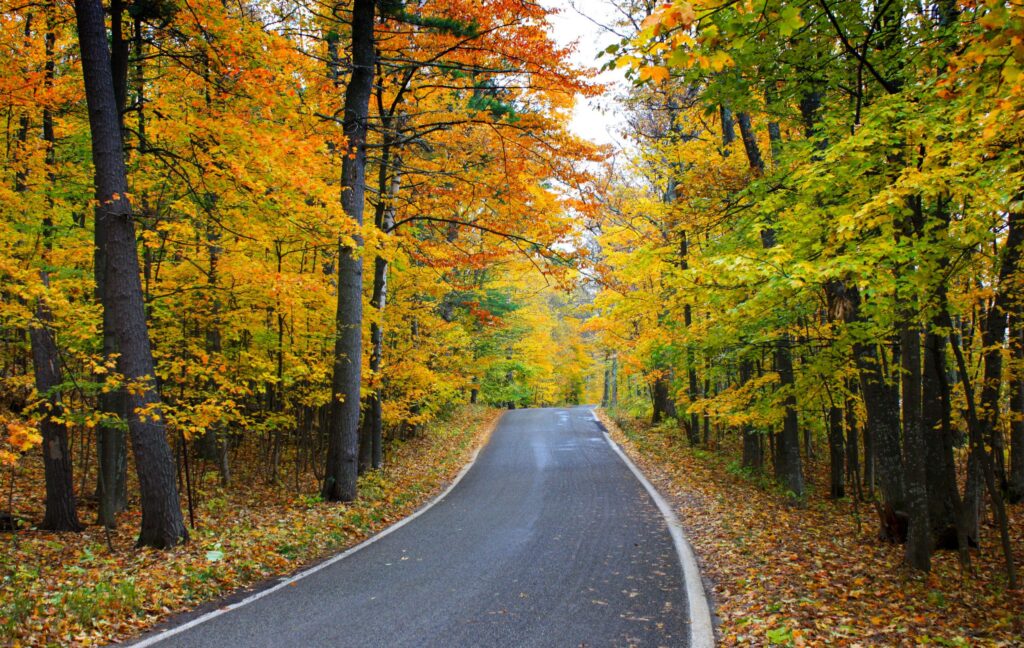 Get ready for an extraordinary journey along Emmet County's Tunnel of Trees. Located in Michigan, this 20-mile stretch of Route M-119 offers a mesmerizing drive through a canopy of colorful foliage. As you wind your way along Lake Michigan's shore, you'll be surrounded by a breathtaking display of fall colors.
The Tunnel of Trees is not just a scenic drive; it's an immersive experience. Along the route, you'll encounter stunning sand dune-studded beaches, charming farms, historic sites, and quaint general stores. Take your time to stop at these attractions, explore the surroundings, and capture the essence of autumn.
To fully appreciate the beauty of the Tunnel of Trees, consider visiting during the week or early in the morning. This way, you can enjoy a leisurely drive without the crowds. As you navigate the winding road, revel in the natural splendor surrounding you, and create memories that will last a lifetime.
Tips for Enjoying Fall Foliage
To make the most of your fall foliage adventure, here are some tips to enhance your experience:
Plan Ahead: Research the best time to visit each location to witness peak fall foliage. Timing may vary depending on weather conditions and tree species.

Dress Appropriately: Layer your clothing to stay comfortable in changing temperatures. Don't forget to bring a cozy sweater, a hat, and gloves for those chilly autumn days.

Pack a Picnic: Take advantage of the beautiful surroundings and pack a picnic to enjoy amidst the fall foliage. Find a scenic spot, spread out a blanket, and savor the flavors of the season.

Capture the Moment: Bring your camera or smartphone to capture the vibrant colors and breathtaking scenery. Experiment with different compositions and angles to create stunning photographs.

Explore Off the Beaten Path: While popular destinations offer incredible fall foliage, don't hesitate to venture off the beaten path. You might stumble upon hidden gems and experience a more secluded and intimate connection with nature.

Check Local Events: Research local festivals and events that celebrate the beauty of fall. From harvest fairs to pumpkin patches, these events can add an extra layer of excitement to your autumn journey.

Chicago and its surrounding areas offer a plethora of options for experiencing the beauty of fall foliage. Whether you choose to explore the serene trails of Shawnee National Forest, wander through the charming streets of Galena, or take a scenic drive along Emmet County's Tunnel of Trees, you'll be rewarded with unforgettable sights and a deep appreciation for the wonders of nature.
As you embark on your fall foliage adventure, remember to plan ahead, dress appropriately, and immerse yourself in the beauty of the season. Capture the vibrant colors, savor the crisp air, and create memories that will last a lifetime. Fall in Chicago is a magical time, and these best places to see fall leaves will leave you in awe of nature's artistry. So grab your loved ones, hit the road, and embark on a spectacular autumn journey you'll never forget.